MyHealth Africa, a Kenya-based health tech startup focused on changing how people access medical services, has raised $1 million in a seed funding round to expand its services to other regional markets.
This is the second time the startup has raised funds since its inception in 2018. In 2021, the health tech startup raised an undisclosed amount led by Founders Factory Africa.
The funding round was led by GIIG Africa Fund, with participation from Japanese-based Samurai VC, a family office, and other existing investors.
With this new fund, MyHealth Africa hopes to expand its services to the Middle East and South Asia and increase patient access to local and international hospitals and medical professionals. to the Middle East and South Asia next year.
Speaking on the startup's plan with this new funding, Ryan Marincowitz, MyHealth Africa founder and CEO, said,
MyHealth Africa plans to invest the funds to continue rapidly expanding across Africa. We also plan to launch two new regions in 2023, including the Middle East and South Asia, which are already our second and third-largest markets.
"We assist hundreds of patients each month from these two markets to access specialized healthcare services at our network of leading hospitals in the Middle East, Europe, South Asia, and Asia, currently from our office in Kenya."
MyHealth Africa has been a significant addition to the startup health sector in Africa. The startup won the Top HealthTech Startup in Africa in June 2022, awarded by the Global Startup Awards (GSA) Africa.
This award is an exclusive vehicle for the GIIG Africa Fund to locate, fund, and scale the continent's creative startups. The startup has also won the Digital Innovation Award from Bumrungrad International Hospital for 2021.
Read Also: Bolt Nigeria's conditional healthcare plan draws criticism from in-app drivers' union
About MyHealth Africa
MyHealth Africa, a healthcare platform founded in 2017, uses a booking and medical management system to give patients access to healthcare services from doctors and providers worldwide, remotely or in person.
According to a post by TechCrunch, The startup claims to have helped over 1,200 patients per month and that, as of 2022, month-to-month patient visits have increased by an average of 11%.
Also, it asserts that it has helped more than 27,000 people receive specialized healthcare services from more than 1,500 healthcare providers.
The startup services are being provided through its app, i.e. from booking your medical appointments, doctors, and hospitals.
It also stores your health records, helps track your chronic conditions & allergies, provide recommendations for overseas medical treatment at some of the world's best hospitals, and much more.
Read Also: A chat with Tobechukwu Obikili on his quest to provide quality healthcare services with Airmed
Healthcare services in Africa
A major problem with healthcare in Africa is that there are far fewer qualified healthcare professionals than people living there.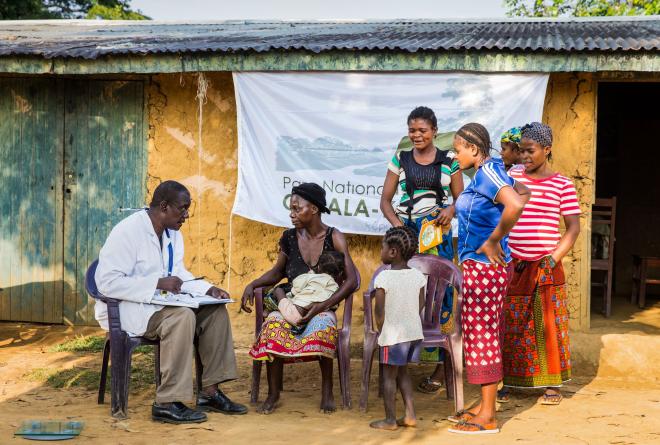 In comparison to the best ratio of 84.2 doctors in the most industrialized countries, sub-Saharan African nations have 0.23 doctors per 10,000 inhabitants, according to the World Health Organization.
MyHealth Africa has been working on trying to use technology to address this significant problem starting with Kenya and other African nations. It is now expanding to other regions with this new funding.
An International Financial Organization (IFC) study has shown that the African region needs investment to develop and upscale its healthcare sector to provide more accessible services across the continent.
Commenting on their thoughts on MyHealth Africa, Philip Baldwin, GIIG Africa co-founder and the lead investor company at the funding round, said,
When we first encountered MyHealth Africa during the last season of GSA Africa, we became engrossed in learning how this startup was revolutionizing the East African healthcare landscape. And today, we could not be more pleased to announce our formal partnership in helping take the MyHealth Africa solution to the world.
The health-tech startup makes the list of startups in Africa that address inefficiencies in the healthcare sector because it is committed to ensuring that healthcare services are easily accessible across the continent.
Get the best of Africa's daily tech to your inbox – first thing every morning.
Join the community now!