On June 23, Technext organised a Twitter Spaces session where participants discussed the growth of fintech companies in Nigeria, future goals, and an attempt to answer the question of a congested fintech space in Nigeria.
Speakers in the Spaces session include Grillo Adebiyi, Marketing lead, Cowrywise, Kazeem Noibi, CTO of Fincra, Blessing Iyamadiken, Head of Platform, Ajim Capital, and Olabinjo Adeniran, co-founder of Future Africa, hosted by Technext's co-founder, Anderson Ozakpo.
Key points from the the fintech space discussion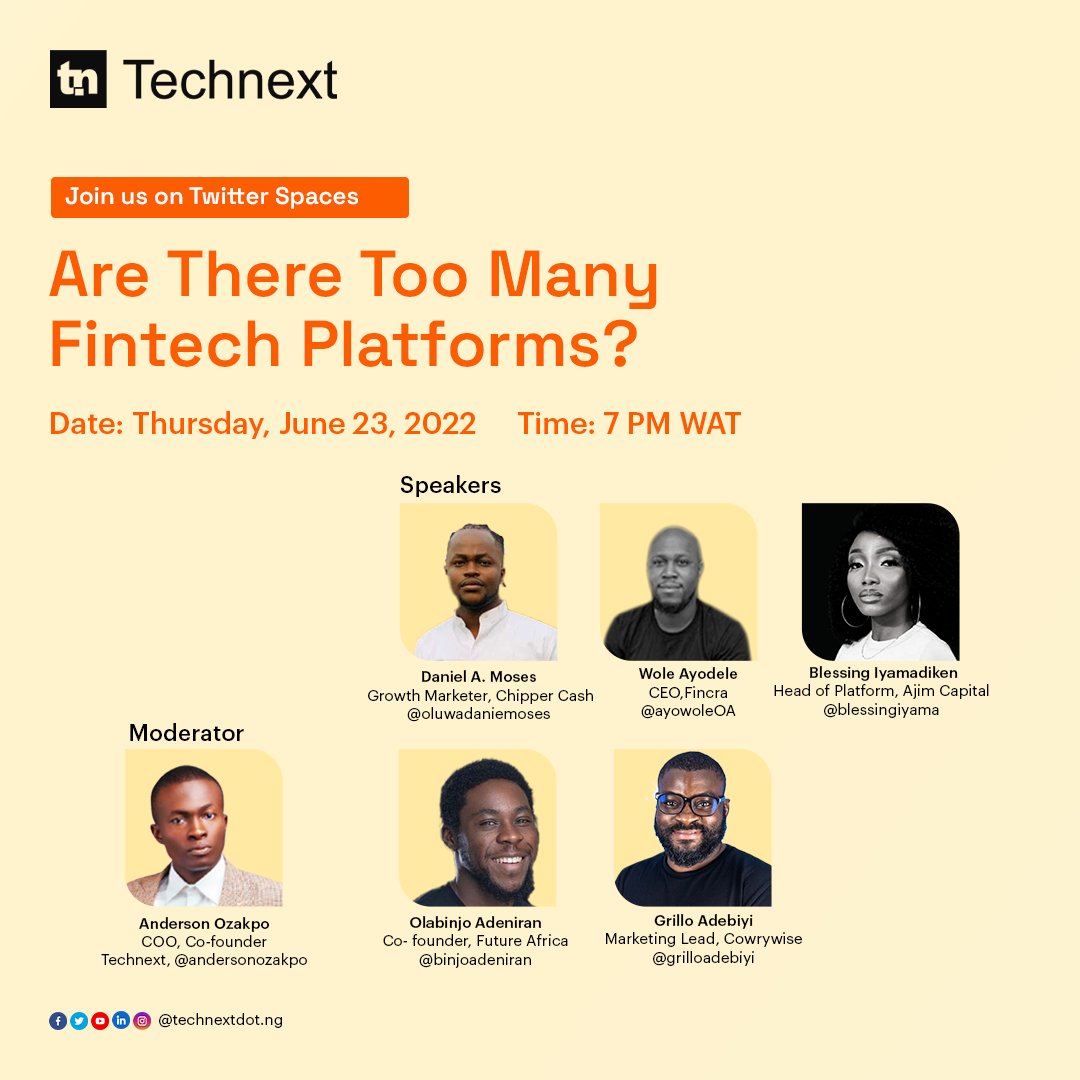 It began with an introduction on the background and scope of the fintech industry, its offerings, and the conversation on financial inclusion.
Grillio Adebiyi, the first speaker, noted that fintechs aim to democratise and streamline access to financial resources and banking services by removing the restrictions associated with traditional banking.
The second speaker, Noibi pointed out that these startups speed up revenues and expand the market for traditional banking and actually operate in tandem with it. He added that the platforms exist based on the capacity of the conventional banking system, and not in isolation.
The Nigerian financial sector has very deep expertise and there have been exciting solutions from the financial space.

Olabinjo Adeniran, CEO of Future Africa
When asked how fintechs, in particular, have aided financial inclusion in rural areas, one of the speakers noted that because these startups lack access to some of the resources necessary for banking the unbanked (BVN distribution), there is not much that they can accomplish in this space.
Read Also: Editorial: Are there really too many fintech companies in Nigeria?
Olabinjo agreed and added that although BVN is crucial for conducting banking transactions, it should be properly controlled and not be restricted to only being accessed through conventional means.
I shouldn't have to go to a bank to do a BVN. That's a flaw of the system and it needs to be fixed.

Olabinjo Adeniran, CEO of Future Africa
He also mentioned agency banking, which Blessing later clarified by saying that there are indeed other local banking systems that offer these services to people in rural areas.
When asked if there are too many fintechs in Nigeria, all of the panellists were in disagreement. Binjo, who responded to the question first, stressed that the sector is a free market and that businesses are supposed to compete for customers because having fewer opportunities lead to lower-quality services.
He also noted that although there are various financial platforms, they all provide customers with alternate services. Finally, he said that even if it appears that the market is saturated, many financial issues remain unresolved.
Noibi explained that there is just a perception of too many fintechs as the sector has not even covered enough grounds in the country.
Read Also: All you need to know about CBN's open banking guideline for fintech and banks
Bottomline
The session ended with the opinion that there is still room for more Fintech companies to operate in Nigeria as the available ones do not have the capacity to go far and deep.
The hour-long discussion came to a close followed by a Q & A session.
Listen here
Get the best of Africa's daily tech to your inbox – first thing every morning.
Join the community now!