The Commissioner of Police in Lagos, Abiodun Alabi has indicated that the new total 'okada' ban order in 6 major local government areas by the state government will not affect delivery bikes, private power bikes as well as bikes with officers in uniform. He said this in an interview programme monitored on Channels Television this morning.
According to Mr Alabi delivery bikes will not be harassed by police officers in the state during the period of enforcement, as long as the delivery bikes are not carrying a passenger. Also, power bikes used by private owners will not be affected. He also indicated that military and police officers will not be affected as long as they are wearing their uniforms while riding the bikes.
Yesterday, Lagosians were thrown into a frenzy mood after the sudden announcement of the Lagos State government directing okada riders to exit 6 Local Government Areas of the state. The six local government areas include Eti-Osa, Ikeja, Surulere, Lagos Island, Lagos Mainland, and Apapa.
The directive takes effect immediately starting from June 1st.
According to the governor's tweet, he explained that the reason behind this Okada impromptu announcement is that most riders are not adhering to the traffic laws which has led to preventable reoccurring accidents and loss of lives. He also stated that some criminally minded people have taken use of this okada business to explore their criminalities.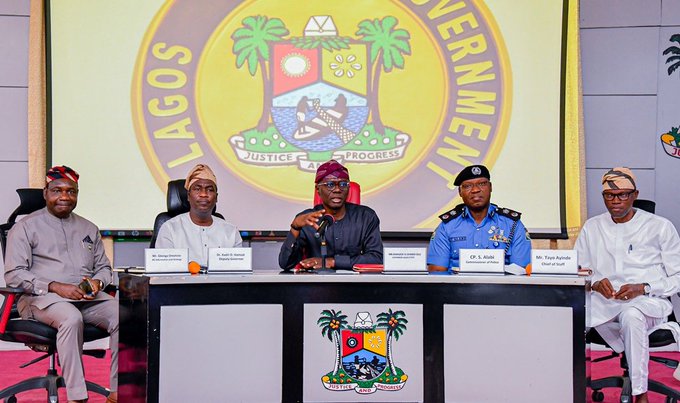 Lagos State government have always had a history of imposing bans on commercial motorcycles. Since 1999, every Lagos State government has placed a full or partial ban on okada activities and Governor Babajide Sanwo Olu has done it twice now.
In February 2020, under the management of this current governor, there was a partial ban on all forms of commercial motorcycles including tricycles (Keke). This led to a massive protest from the bike riders and it was reported that there were violent skirmishes at the time.
However, it is unsure how this ban will take place as these exempted motorcyclists are also known to flaunt the rules and regulations in the state.
This sudden ban announcement could be in reference to a recent event in the Lekki area involving the gruesome murder of a man, identified as David by accused motorcycle riders. Similarly, a dispatch rider was caught in the Sangotedo area of Lagos with a baby in his courier box, in March of this year,
Just because few hours after the announcement by the Lagos government, the Oba of Oniru made a warning statement, that citizens of the Lekki area should be on alert for any possible attacks by the okada riders as there might be a revenge action.
Read also; Uganda's Zembo gets $3.4m investment to scale electric motorcycle business
Lagos citizens share their opinions
Lagos residents have gone to Twitter to express their genuine feelings about these concerns. In defining the ramifications of this decision, some have argued that the government made a mistake because individuals affected will eventually turn to illegal activity to make a living.
Others are dissatisfied, stating that the Lagos government should improve the roads before imposing the ban so that they can commute safely. Some people are unconcerned about the decision since they believe it is a waste of time.
Possible next actions
Following this declaration, the Lagos State governor highlighted their next move in a Twitter thread about alternatives that Lagos residents can use instead of commercial motorcycles.
We have provided Last Mile buses in the affected areas; they are working and effective. We also have medium-capacity buses and high-capacity buses working in these areas. Before the end of the year, we are also bringing the rail along these corridors. We have provided jetties as well to provide alternatives.

Babajide Sanwo-Olu, Governor of Lagos State.
However, with the 2023 elections fast coming, it is unclear how this decision would play out. The Muslim community in Lagos State, which has controlled the okada business in the state, has told the government that if the prohibition is lifted, they will vote.
Get the best of Africa's daily tech to your inbox – first thing every morning.
Join the community now!