Norebase, an African trade technology firm, that has established a single platform for businesses to start, scale, and operate in any African country has officially secured $1 million pre-seed funding led by Samurai Incubate and Consonance Investment.
The funding was also supported by Sahil Lavingia (Gumroad) and Kinfolk VC. Other participants in the round included Future Africa, Ventures Platform, Microtraction, Boleh Venture, Voltron Capital, Wuri Ventures and Afropreneur, Also, some African tech ecosystem leaders and angel investors, Akinlade (Paystack), Odunayo Eweniyi (Piggyvest), Adia Sowho (MTN Nigeria), Akin Oyebode, and Seni Sulyman were in attendance.
It is truly impressive how Norebase is designing a future where every business and individual can experience Africa as one market. Their team comprises some of the best minds on the continent, helping simplify the complications of launching in any African market, and we are excited to be part of their growth journey.

Rena Yoneyama of Samurai Incubate
About Norebase
Launched in September 2021, Norebase is focused on creating a platform that allows African and non-African enterprises access the African continent as a single market, while also providing a channel for African entrepreneurs to access worldwide markets (such as the USA).
With the platform, established firms can extend to new areas while new enterprises can incorporate in any African country of their choice in a matter of minutes. The platform is also concerned with protecting the intellectual property of African startups and international corporations as they scale. Some of its benefactors are Ghana, Kenya, South Africa, Nigeria, Rwanda, Senegal, Cote D'Ivoire, Togo, Tanzania, Egypt, Mauritius, and Burkina Faso, etc.
It has also recently begun to offer incorporation services in the United States.
For the last six months, the company has seen a 100 per cent increase in transaction volumes per month, and a 40 per cent increase in income.
Norebase is fuelling the growth ambitions of a number of innovative businesses, allowing them to focus solely on their core competencies. Brass, Nestcoin, Patricia, Edenlife, GetEquity, Orda, and Kloudcommerce are among Norebase's clients.
Related: How to structure African startups to serve customers globally
How the platform works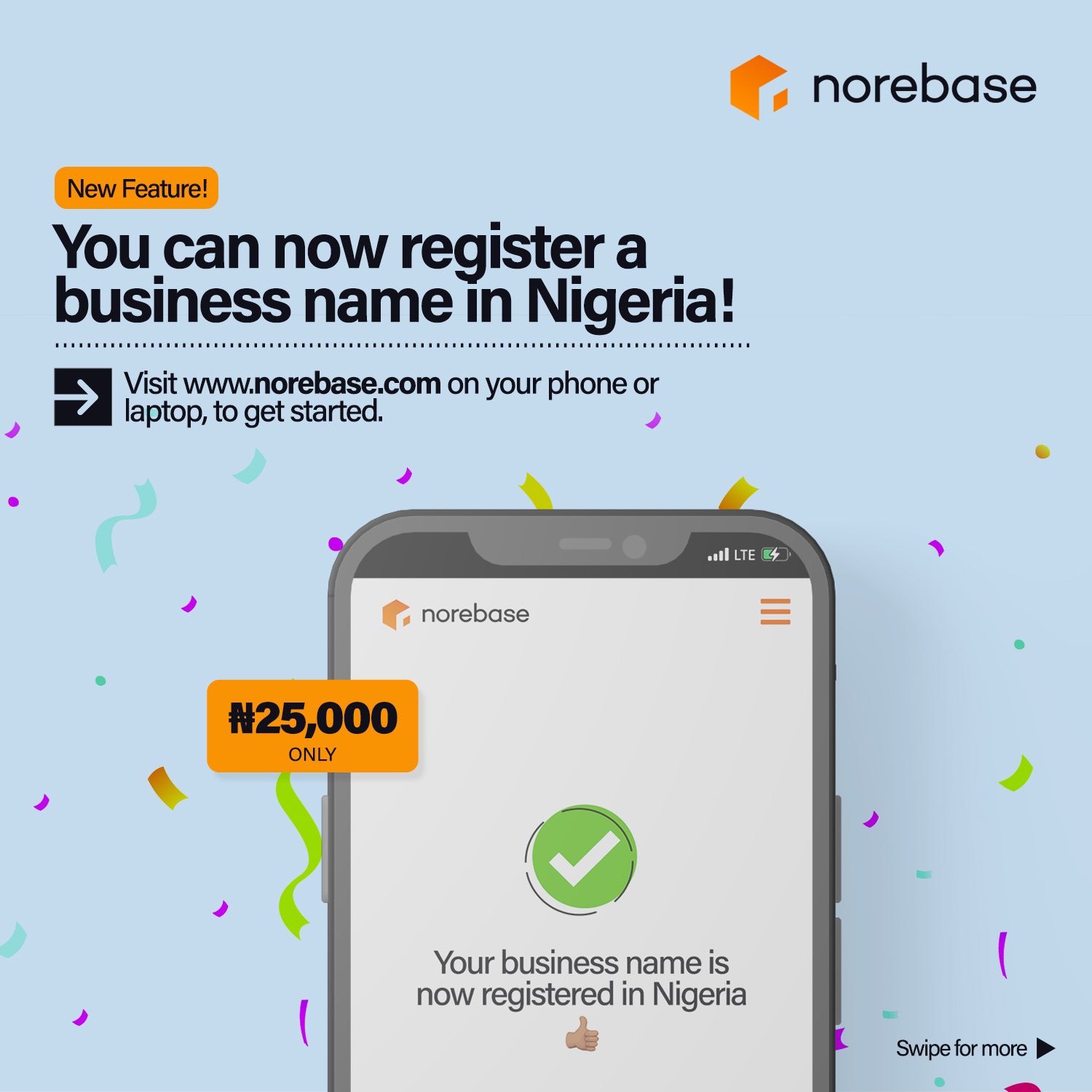 Norebase has introduced Norebase Incorporation API, an API service that allows other businesses to offer incorporation services to their own consumers through their websites. Any company that integrates with the Norebase API can provide a simple form to its customers, and the information on that form is automatically submitted to Norebase to register a business on their behalf.
The business registration paperwork are also sent back through the API after incorporation. Banks, credit bureaus, payment processors, vendors, and any other company that interacts with registered businesses can use the Norebase API to eliminate any drop-off points in their product process, as well as the need for customers to leave their website/app to register a business before using the service.
Future plans
According to Norebase's CEO, Tola Onayemi, the platform is constructing a future where starting a business or expanding a business in any African country is as simple as clicking a single button, and it is purposefully building the single digital infrastructure and technology tools that will enable trade throughout the continent.
Africa's startup scene is drawing the attention of the global business community as a place with immense promise, and the Norebase team is excited to link new and current firms with the tools they need to develop their enterprises seamlessly in and beyond Africa.
The rapid acceleration of innovation across Africa, as well as the growing appeal of new markets, need the know-how of a more seamless cross-border expansion experience.
The team is using a variety of technologies to further its goal of uncovering an era of African wealth by making it simple for anyone to do business in any African market. 
Norebase sees itself as well-positioned to help entrepreneurs, founders, and businesses start and scale across borders seamlessly and reach Africa's 1.2 billion people.
---
If you'd like to get featured on our Entrepreneur Spotlight, click here to share your startup story with us.
---
Get the best of Africa's daily tech to your inbox – first thing every morning.
Join the community now!