The Central Bank of Nigeria (CBN) today granted MTN license to commence operations of the proposed MOMO Payment Service Bank. 
MTN Nigeria, one of Africa's largest providers of communication services, in an official statement referred to its earlier notification issued on November 5, 2021, in which it communicated receipt of the approval in principle from the CBN for MOMO Payment Service Bank limited (MOMO PSB).
Read also: MTN Group plans to roll out new brand identity; displays new logo
The approval comes in line with the Groups anticipation of the approval since 2018 when the Nigerian Government first announced of its willingness to issue them the license.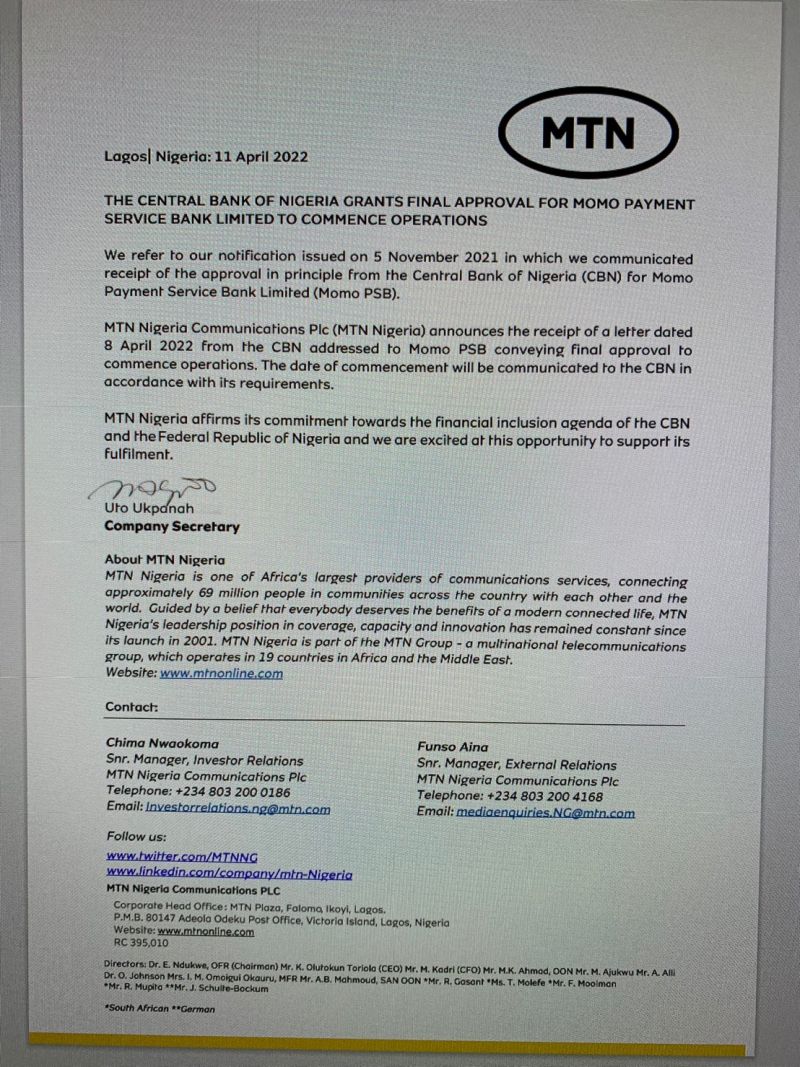 "The date of commencement will be communicated to the CBN (Central Bank of Nigeria) in accordance with its requirements," the telco heavyweight said of the bank to be known as MoMo Payment Service Bank Limited in a note to the Nigerian Exchange.
MTN Nigeria also reiterated and affirmed its commitment towards the financial inclusion agenda of the CBN.
"And we are leveraging on our size. When we have subscribers of over 70 million spread across Nigeria with our infrastructural spread, we are well positioned to cover everywhere. That's exactly what we want to achieve," a senior MTN official said, according to Premium Times.
What this means
The approval grants MTN Group Limited the leave to operate virtually all the services offered by conventional commercial banks with the exception of granting credit and processing foreign exchange transactions.
Some of the major benefits of the payment service bank is that it accepts deposits from individuals and small businesses, carry out payment and remittance services within Nigeria, issue debit and prepaid cards, operate electronic purses, and other activities prescribes by the CBN. This would go a long way in helping SMEs grow and widen their alternatives.
The announcement also comes as a welcome development to the financial service sector, especially for telecommunication companies like Airtel or GLO Nigeria, who look forward to leveraging the vast number of financially excluded individuals in Nigeria who are estimated to be over 36.8%, according to the EFINA Access to Financial Services survey findings.
After successful commencement in Ghana, the approval to commence operations in Nigeria is seen as a step towards taking financial inclusion to a larger community.
MTN Nigeria had earlier won the audition of the Federal Government to provide 5G services to teleco users in Nigeria. The Group was one of the two teleco providers, together with MAFAB. After this, the company initiated some rebranding to its services it provides recently, and changed its logo.
MTN Nigeria was recently recognised as one of the most tax compliant company in a recent even in which the FIRS applauded the Group after turning in over NGN757.6 billion in taxes.
Get the best of Africa's daily tech to your inbox – first thing every morning.
Join the community now!