We will recall the rise of religious Higher Institutions when we were told that "Our Universities will cater to the academic needs of Nigerians, especially the poor, who cannot afford expensive education. Our members will be prioritised in this." The excitement got to Heaven, that Angel Gabriel had to ask for decorum. Maybe he knew because the religious higher institutions turned out to be so expensive that even church members cannot afford them.
That is the same story with finance apologists when they announced that they will start building. The lingo: Financial Inclusion. This meant that the benefits will get to people in rural areas, old and young, white and black. The noise was much. Many of us would not breathe for five minutes before the concept came up again. It lasted as long as the word "palliative" during the Goodluck Jonathan administration, and as "shocking" in this current government.
Without a doubt, financial inclusion has been abused as much as unrelated words "sorry" and "strategy".
However, we're not surprised. Many words have come up that are just there to troll the Nigerian citizenry.
Before the then anthem, financial inclusion was Nigerian commercial banks that had no idea what growth meant. It even took a while before digitisation was added to their dictionary – even though it is still a blurry word. Nigerian banks were pushed by those who argued that tech solutions, the financial way, were not available, and people in the rural areas were grossly left out in the scheme of things.
The advent of tech companies that provided solutions to easy money transfers, and accessibility, excited everyone. What was better than annihilating the NIPOST/NITEL medieval methods, and embracing ease? The second wonder in Nigeria after democracy in 1999.
But, they over-promised.
"These things will get to people in the rural areas! We're going to go there and teach them, and they'll all be included."
They did not need to go beyond city walls to see that financial inclusion is a magical concept even to many in the cities.
The use of smartphones did not guarantee inclusion. But, who was going to tell them this? As long as it was a "solution", no criticism was allowed. Even now, the tech world is shielded from criticism. Maybe #HorribleBosses trend shattered the relative peace the tech industry enjoys.
They all introduced USSD, and it is the same people who use the mobile applications that use the codes. So, we are not there yet.
Away from financial inclusion, some tech companies go into the market with no idea of how the market works. It is a solution, so why not? Yet, it is no news that Nigerians' needs are bigger than one person's internal rumblings.
Let's say we define financial inclusion.
It's an enabler. A key element in eliminating poverty. Laugh now, because about 90 million Nigerians are categorised: POOR.
World Bank says: Financial inclusion means that individuals and businesses have access to useful and affordable financial products and services that meet their needs – transactions, payments, savings, credit and insurance – delivered in a responsible and sustainable way.
The World Bank Group adds: Being able to have access to a transaction account is the first step toward broader financial inclusion since a transaction account allows people to store money, and send and receive payments.
Investopedia says basically the same thing. So you know it is like mathematics.
"Financial inclusion refers to efforts to make financial products and services accessible and affordable to all individuals and businesses, regardless of their personal net worth or company size. Financial inclusion strives to remove the barriers that exclude people from participating in the financial sector and using these services to improve their lives. It is also called inclusive finance."
Keywords/phrases:
Accessibility
Affordability
Meet needs
All individuals, no categorisation
Inclusivity
All of that point to the fact that financial inclusion means:
"Efforts to make financial products and services accessible and affordable. to everyone, notwithstanding social class or status. The efforts should meet the needs of the people and be able to reduce the poverty level."
If that definition meets any Fintech platform, then we're there. But, it hardly does.
In a report in December 2021, 71 per cent of urban adults have bank accounts, and only 40 per cent of those in rural areas have a formal account. More than 60 per cent of rural communities surveyed don't have a bank branch, agent or ATM.
The report continues:
Mobile money has not proven to be a widespread option as only four per cent of adults in the EFinA study (less than 6 per cent in 2017 according to Findex) report having such accounts. In addition, women are less likely to be financially included than men. While 57 per cent of men in Nigeria have a financial account, only 45 per cent of women do. Women living in rural areas are even less likely to be financially included.

World Bank
Earlier in 2021, the EFInA Access to Financial Services in Nigeria 2020 Survey showed that 51 per cent of Nigerian adults are using formal financial services, such as banks, a microfinance bank, mobile money, insurance, or pension accounts, up from 49 per cent in 2018. This has largely been driven by growth in banking, with 45 per cent of Nigerians banked in 2020, up from 40 per cent in 2018.
Although financial inclusion has seen some growth, Nigeria fell short of the National Financial Inclusion Strategy targets for 2020. The country had aimed to reach 70% of Nigerians with formal financial services by 2020; the actual figure was 51%.
The strategy also set targets for overall financial inclusion, which counts Nigerians that use either formal financial services or informal financial services that are not nationally regulated, such as savings groups. The overall financial inclusion target was 80% by 2020; EFInA data shows that only 64% of Nigerian adults were financially included by the end of 2020. This means that 36% of Nigerian adults, or 38 million adults, as of 2021, remained completely financially excluded.
Without closing the gap, Nigeria can only dream of reaching the 95 per cent inclusion target set by the CBN for 2024.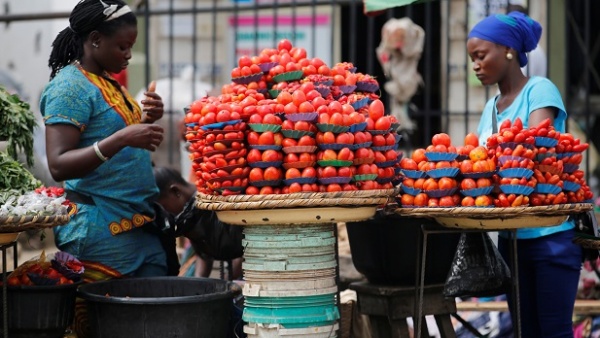 Financial inclusion should aim to include everybody in society by giving them basic financial services regardless of their income or savings. Fintechs in Nigeria are open with their target: young, middle class, rich Nigerians – which is not a bad idea.
There's the talk of zero charges on transactions – also not a bad idea – but where are the people who may only be able to save 100 Naira per day, the ones who do not understand tech jargon and the ones in rural areas who do not have access to financial services?
Roll call: Absent.
The World Bank slightly disagrees then corroborates our argument:
"Financial inclusion is on the rise globally, accelerated by mobile phones and the internet, but gains have been uneven across countries. A new World Bank report on the use of financial services also finds that men remain more likely than women to have an account.
Globally, 69 per cent of adults – 3.8 billion people – now have an account at a bank or mobile money provider, a crucial step in escaping poverty. This is up from 62 per cent in 2014 and just 51 per cent in 2011. From 2014 to 2017, 515 million adults obtained an account, and 1.2 billion have done so since 2011, according to the Global Findex database.
"While in some economies account ownership has surged, progress has been slower elsewhere, often held back by large disparities between men and women and between the rich and poor. The gap between men and women in developing economies remains unchanged since 2011, at 9 percentage points."
Keypoint: gap – the crux of our argument.
There is a wide gap and we are not sure if it's avoidable or not. But, if we based our argument on poverty levels, use of financial services in Nigeria, and understanding of financial products and services, the gap is wider than imagined.
We are looking at up to 100 million Nigerians entering abject poverty by 2024, and even the current government's social intervention programmes or fintech's/commercial bank's paths may not stop it.
We all need to do better.
Get the best of Africa's daily tech to your inbox – first thing every morning.
Join the community now!