Binance, the world's largest crypto exchange, has launched a fiat-to-crypto payments provider Bifinity. This development is coming when there is a greater demand to build improved fiat-to-crypto platforms to bridge the gap between the traditional finance industry and the decentralised and centralised crypto-economy that ordinary people can access. 
Bifinity will act as Binance's official fiat-to-crypto payments provider. It supports a host of cryptocurrencies as well as traditional payment networks such as Visa and Mastercard. Merchants will be able to integrate the company's application programming interface (API) in order to reach a higher level of scale and the service also offers payment processing fees.
In a post on its blog on March 7, 2021, Binance disclosed that its ecosystem would be powering Bifinity, with which it seeks to facilitate crypto payments for merchants and businesses to spread adoption. The announcement underscored the usability of the new platform.
Bifinity President, Helen Hai says "With the launch of Bifinity, we aim to accelerate mass crypto adoption."
Following the launch, Bifinity will directly compete with Block Inc. (formerly known as Square Inc.) known for its Cash App. CEO, Jack Dorsey, who is a co-founder, recently left his position as CEO of Twitter in order to focus on further developing the blockchain capacities of the company (Block Inc), which was reflected in the name change.
Away from that, Binance has also launched a $100,000 Shiba Inu (SHIB) tokens giveaway campaign for new users. Shiba Inu is a groundbreaking memecoin that gained worldwide acceptance in 2021. The popular dog-themed cryptocurrency, which has proven to be more than a memecoin, has been widely adopted by retail and institutional investors, as well as trading platforms. It is currently the 15th largest cryptocurrency by market cap.
According to Binance, all new users who register on the exchange from March 8 to March 21, 2022, will participate in sharing the $100,000 worth of SHIBs. The giveaway exercise is divided into two packages, Promotion A and Promotion B.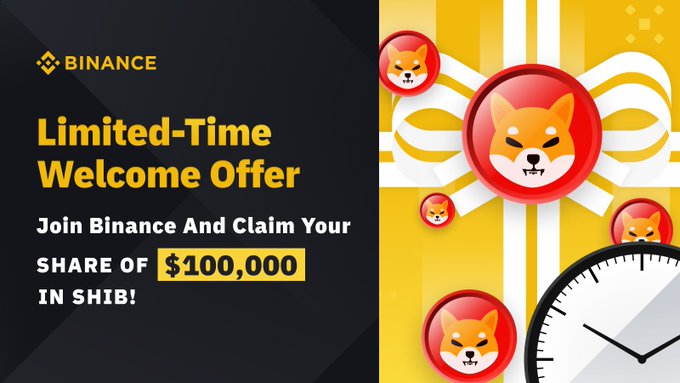 For the first promotion package, interested participants are required to register on Binance using a designated referral link within the promotion period, which will see them receive a share of $80,000 worth of Shiba Inu tokens in the form of a welcome gift.
Users in this category will receive a welcome bonus ranging between 100,000 SHIBs to 308,000 SHIBs. The distribution of the dog-themed cryptocurrency will be allocated based on a first-come-first-served basis, Binance added in the announcement. 
Users will not be allowed to withdraw the SHIB immediately after they receive the token, as they will be required to reach a minimum of 50 USDT equivalent in total trading across spot, and margin trading pairs.
Promotion B Requirements
Notably, the Promotion B Shiba Inu giveaway exercise will see the exchange distribute $20,000 worth of SHIBs to qualified users who click the "Register Now" button on the activity page.
However, users who choose to take this route will be required to accumulate a total trading volume of $1,000, including both buys and sells of selected SHIB spot trading pairs such as SHIB/USDT, SHIB/DOGE, and SHIB/BUSD. Doing this will automatically qualify the user for a share of the $20,000 worth of Shiba Inu.
According to the announcement, all interested participants will need to complete the Know-Your-Customer (KYC) verification requirements before they can qualify for the offer. While rewards for Promotion A will be allocated immediately after fulfilling the necessary requirements, users who opt for Promotion B exercise will receive their rewards within two weeks after the end of the promotion.
Get the best of Africa's daily tech to your inbox – first thing every morning.
Join the community now!