Nigeria's Minister of State for Labour and Employment, Festus Keyamo, says the dialogue between Twitter and the Federal Government of Nigeria to lift the ban on Twitter is in progress although a few conditions yet to be met.
Festus Keyamo, who is part of the cabinet members involved in the dialogue with Twitter says Twitter has agreed to all the Nigerian government's conditions but has not set a timeline for implementation.
"It was Twitter, just to put it in context, that reached out to the federal government to say they want to know what they can do to straighten up the relationship with the federal government. And so we've gone far. I may not at this forum, let out a lot, but we gave them a lot of conditions (and) they have agreed to all those conditions. What is left now are the timelines to fulfill those conditions.

Festus Keyamo, Nigeria's Minister of State for Labour and Employment
Twitter, a global social media platform was suspended in Nigeria after a tweet by President Muhammadu Buhari was removed from the platform because it violated the company's "abusive behaviour" policy.
This is not the first time the government is releasing a statement about lifting the suspension and making the platform operational again in the country.
In September, the Minister of Information and Culture, Alhaji Lai Mohammed said the Federal Government was concluding plans to lift the suspension in "a few days or weeks".
In October, during the Presidential broadcast to mark Nigeria's 61st Independence Anniversary, the President directed that the suspension be lifted but only if the conditions are met.
Set Conditions
The Federal Government of Nigeria has a set of conditions that Twitter must meet if it must resume operations in Nigeria.
The conditions are as follows:
Twitter must pay attention to national security isues and enforce cohesion
The platform must be registered as a business in the country
It must establish a physical presence and representation in Nigeria
It must subject itself to fair taxation
It must put in place rapid dispute resolution and ensure local content
According to Festus Keyamo, the Jack Dorsey owned company has agreed to taxation and physical presence. He also added that the technical committee set up to interface with Twitter is currently working on a code of conduct to control the mode of engagement on the platform and other social media platforms.
"So, they've agreed to taxation, they've agreed to open an office in Nigeria so that there can be some, you know, face to face complaints so that we don't have to be going through algorithms to complain about activities of certain persons who use Twitter to subvert the government of the day."
Why Twitter may not be in a hurry to meet FG conditions
In April, Twitter announced that it was setting up its first African presence in Ghana in a move that was considered a snob for Nigeria. For the social media giant, its decision was based on Ghana support of "free speech, online freedom, and the open internet".
The choice of Ghana instead of Nigeria, where it enjoys more patronage was criticized but the reasons for that choice were understandable. Clearly, setting up an office in Nigeria wasn't in the company's plan in the nearest future and that FG condition is likely a major disruption in its future plans. This would naturally lead to a drag.
Twitter pays taxes in the United Kingdom with about 16m users for instance. Nigeria has about 40 million Twitter users and an estimated 10 million daily active users. Thus, the FG's demand for fair taxation might be reasonable.
"Once those timelines come and they fulfill those conditions, Twitter will be back to business in Nigeria. They know exactly what we want. And these are things that are extremely altruistic,

Festus Keyamo
However, paying these taxes will depend on how soon Twitter could get an office running in the country. Twitter has its European headquarters in the UK for instance and as such is required to pay its taxes there. Thus, without the Nigerian office, paying a tax might be impossible.
Twitter revenue from Nigeria might be neglible
According to Twitter's Q3 2021 earnings report, the microblogging platform generated $742 million in the United States which is its biggest market. Its international revenue also witnessed a 28% increase, hitting $542 million for the quarter.
The US is by far Twitter's largest revenue earner, accounting for nearly 70% of its revenue. Japan is the second-largest, followed by India, Brazil, the UK etc. Nigeria hardly features in the top 5.
It is, therefore, obvious that the company continues to hit giant strides in its revenue despite Nigeria's restrictions. Twitter would therefore be expected to take their time in deciding if these investments would be worth taking especially for a region that isn't driving much of its revenue.
Although the government has boasted of the certainty of Twitter's loss, reports have shown that the nation's economy has been on the receiving end of the ban. According to NetBlocks, a watchdog organisation that tracks cyber-security and internet administration, each day of the Twitter ban costs Nigeria about N2.18 billion.
Access to Twitter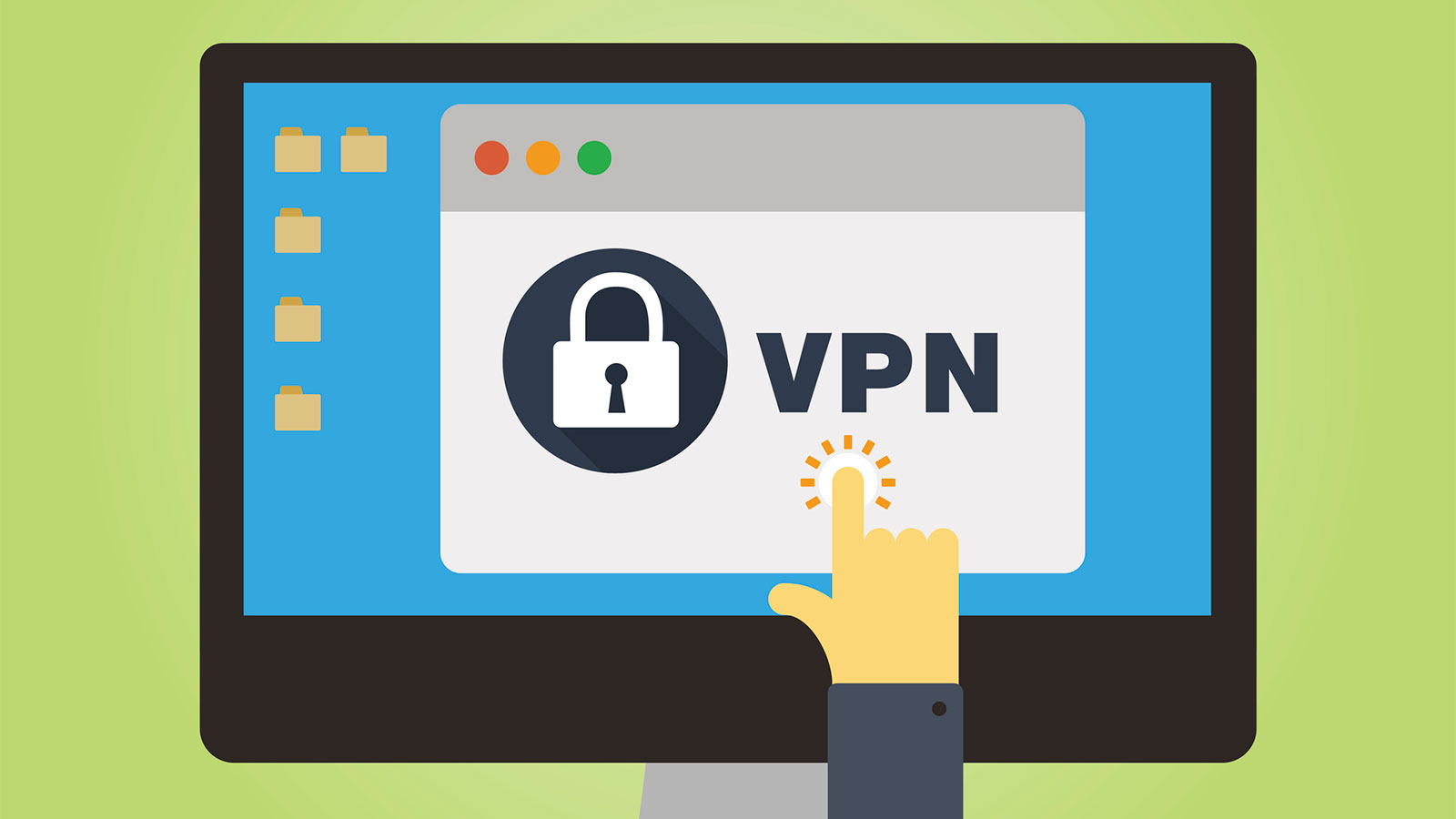 Despite the ban on the platform, Nigerian users still gain access to their accounts through the use of Virtual Private Networks (VPN), which allows them to bypass the block on geo-restricted sites.
With users growing increasingly comfortable with accessing the platform through VPNs, Twitter might not be in a hurry to succumb to the FG's pressure and for good reasons. However, Twitter users in the country have continued to fall as the suspension continues.
VPN users have complained of data usage, power usage problems which is a big deal in Nigeria renowned for poor power supply, and a host of other technical issues including privacy and security concerns.
But largely, many users are just too scared, or not tech-savvy enough to try out VPN's.
President Buhari's associates returning to the platform ahead of 2023 elections
It would be expected that the supporters and agents of the government adhere strictly to the ban by not using their Twitter accounts. Ironically, these supporters have also been known to jump on Twitter from time to time, presumably with the use of VPNs to weigh in on social discourse.
For example, Governor Nasir El-Rufai of Kaduna state, a strong supporter of the president posted a tweet on his account early this month. Before that time, his last tweet was June 6, a day after the Nigerian government suspended the activities of Twitter.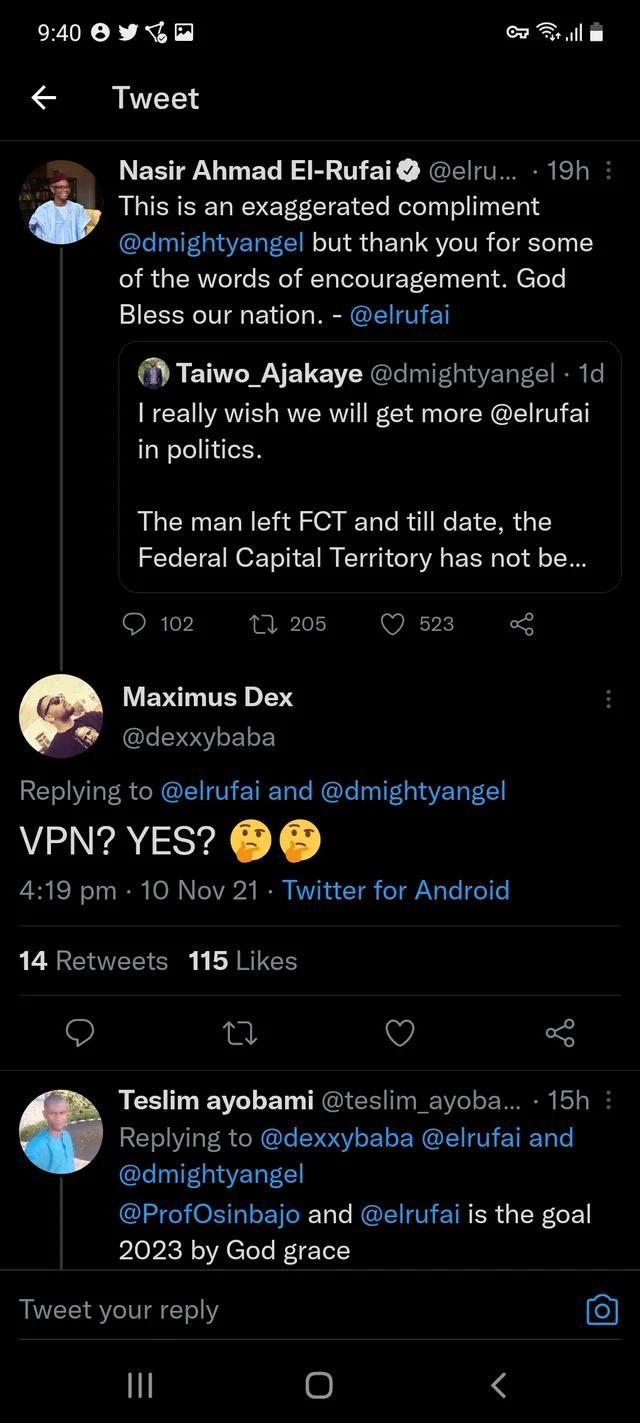 The governor thanked a supporter of his works as former minister of the Federal Capital Territory. In the comment section, someone asked the governor if he was using a VPN, and the governor replied that he was out of the country, and "can tweet for the time being."
Human Rights activist, Rinu Oduala who spearheaded the EndSars campaign in 2020 then reminded the governor that freedom of speech was only available outside Nigeria. He replied that the use of Twitter was not synonymous with freedom of speech.
This comment irked other Nigerian Twitter users most of whom were of the opinion that if he could enjoy Twitter outside the country, why were the citizens of his country being denied the same privilege?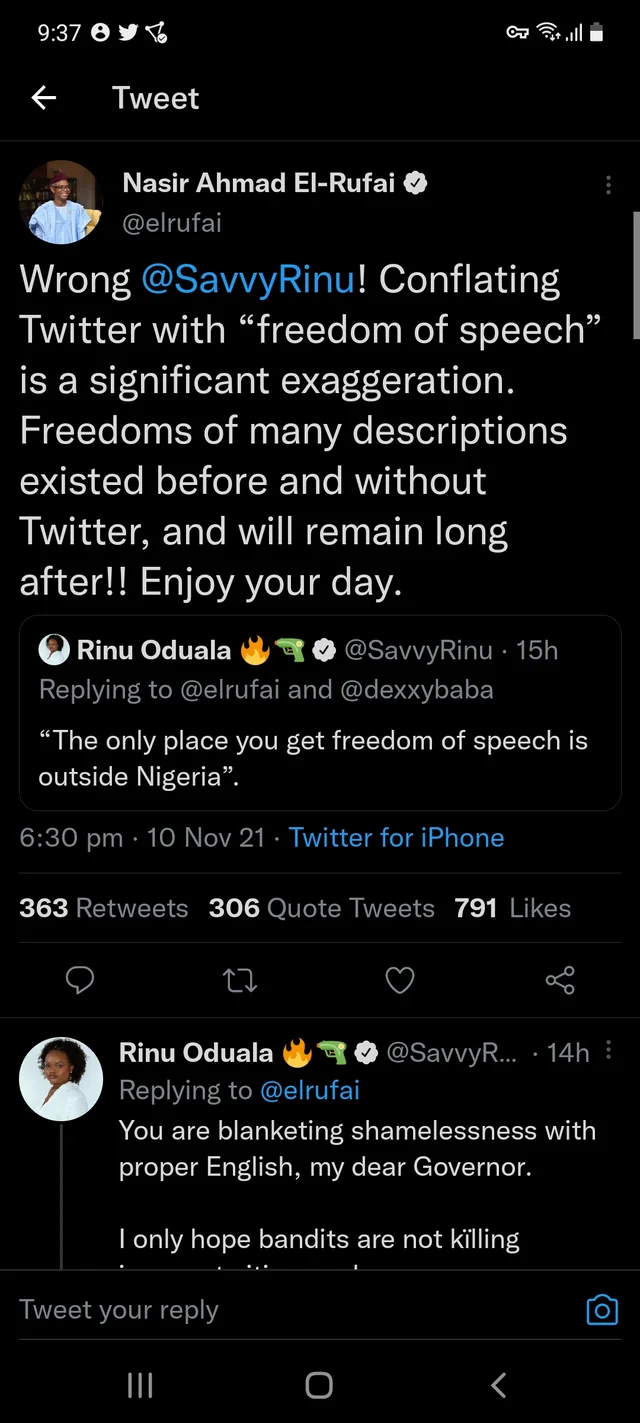 This, in a nutshell, shows that with the 2023 election campaign season kicking off, a major discussion would be freedom of speech that has been thwarted by the present administration at every turn. The crackdown on Channels TV, the proposed amendment of the Nigerian Media Bill and of course the Twitter ban, are all important conversations that would decide the candidates.
The fact that members of the political elite are flouting the ban imposed by the government shows the importance of Twitter as a platform for political engagement. It is election season and politicians would find their way to Twitter for campaign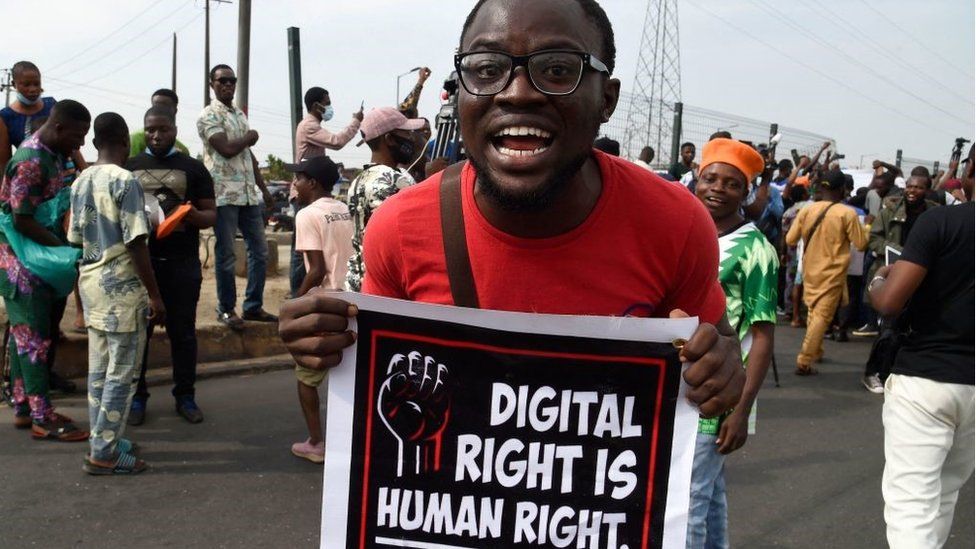 With campaigns for the 2023 general elections in full swing, political influencers, especially cronies of the current government, are already on Twitter canvassing for votes.
For opposition parties, conversations around the ban of the platform is a great talking point to amass votes. Some have cited that the ban is an attempt to muzzle the populace knowing that is it a platform that influences political consciousness.
With Nigerians generally resorting to VPNs to access their Twitter, the country's almost negligible contribution to Twitter revenues, Nigeria's own profound economic losses due to the ban, and of course election season around the corner, Twitter may not be in a hurry to implement the FG's conditions.
It is, therefore, not surprising that it is holding out on providing a timeline as noted by Festus Keyamo. It will, however, be interesting to see for how long Twitter is willing to hold out for.
Now that you're here, don't forget to register to be a part of the largest crypto conference in Africa put together by Technext. Kindly follow this link for registration and more info.
Get the best of Africa's daily tech to your inbox – first thing every morning.
Join the community now!