It's Black Friday season again. It is the highly anticipated period of the year when customers can purchase a variety of products at cheaper costs as a number of companies slash prices on several products to boost sales prior to the festive season.
E-commerce platforms are usually at the forefront of Black Friday deals. Nigerian e-commerce companies like Jumia and Konga are offering the biggest deals in this year's Black Friday.
Brief history of Black Friday
According to the Huffington Post, the earliest use of Black Friday didn't connote a joyful period when people were going for Christmas shopping, getting freebies and all that good stuff. On the contrary, it tells some really sad tales.
Its earliest use dates way back to 1869 when it was used to describe the day which the freefalling prices of gold caused a crash in the US market. The effects of this crash were felt by the U.S. economy for a long long time to come.
But the use which is remotely close to what we have today came during the 1950's/60's when the Philadelphia Police Department named the Friday following Thanksgiving Day 'Black Friday'. This was the Friday when Christmas shopping started and as such there were always massive traffic jams and over-crowded sidewalks as shoppers went about their business.
The current meaning attached to Black Friday became popular in the 1990's and generally refers to retailers reaching profitability for the year. Because profitability is marked with black ink on the business ledgers as opposed to losses that were originally recorded in red ink, the retailers announce their good fortune by announcing Black Friday deals.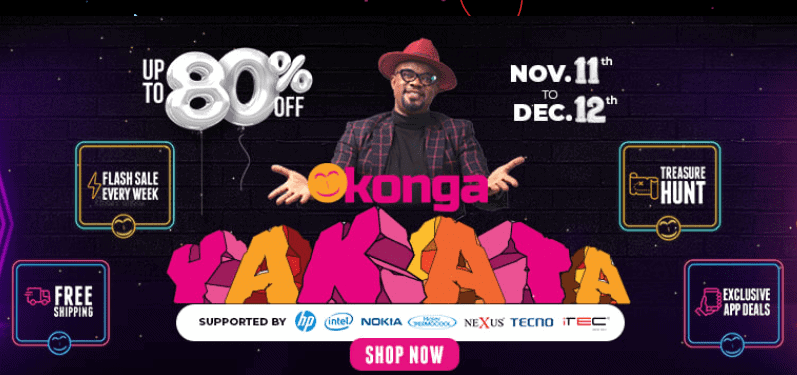 Nobody knows exactly how Black Friday became a Nigerian affair but one can suppose that just like most other things like Halloween and Christmas, this too was imported as part of the western lifestyle we all love so much.
Over time, Black Friday has evolved to become the day when retailers give their customers massive discounts on products. This act has proven profitable over the years. In 2016, Jumia generated N7 billion from about 295,000 total Black Friday sales while Konga, realised N3.5 billion from sales on 155,000 orders.
Below are the best deals offered by various companies.
JUMIA
Jumia Black Friday deals started on November 5 and will run till November 30, 2021. The online store has partnered with tech companies such as Samsung, Oraimo, Intel and Anker to offer Nigerians amazing deals.
Jumia will be offering a 99% discount on treasure hunt campaigns. The online store will also be unveiling treasure hunts every Friday by 12 am and 6 pm. You can also spin the wheel of fortune and win mouthwatering prizes every day.
You also get a 10% discount of up to 10,000 Naira if you pay for your order using a Stanbic IBTC Mastercard. You also get 20% off up to 5,000 Naira if you pay using a Mastercard.
KONGA
Black Friday deals on Konga are known as Konga Yakata. The sales start November 11 and end on Sunday, December 12, 2021.
Konga has partnerships with brands like Samsung, HP, DELL, Zinox, Intel, Coca-Cola, Infinix and Visa. The eCommerce will be offering up to 90% off the products on sale.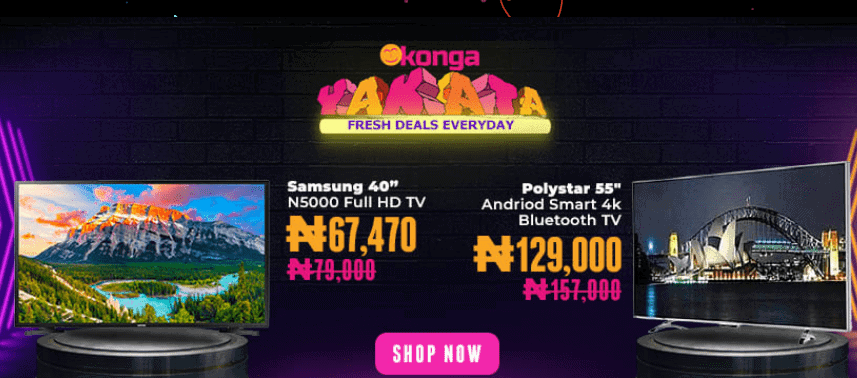 There is also a new twist to this year's sales known as Konga Yakata Plus. Konga, in partnership with Access Bank Plc, will be offering free delivery of essential and quality food items to the less privileged. These food items will be purchased by philanthropic Nigerians on the website during the Yakata sales.
TECNO
Tecno, makers of smartphones are also participating in the Black Friday trend this year. The sales started 5th November 2021 and will run till the 26th of November, 2021.
To participate, purchase any TECNO Spark and POP smartphone series at TECNO accredited retail stores nationwide.
The Phantom X smartphone is also up for grabs. The first 10 customers to order the Phantom X smartphone exclusively from the Phantom website get a 5% discount, a free backpack, TECNO Buds1 wireless Bluetooth earbuds and a VIP card.
OPPO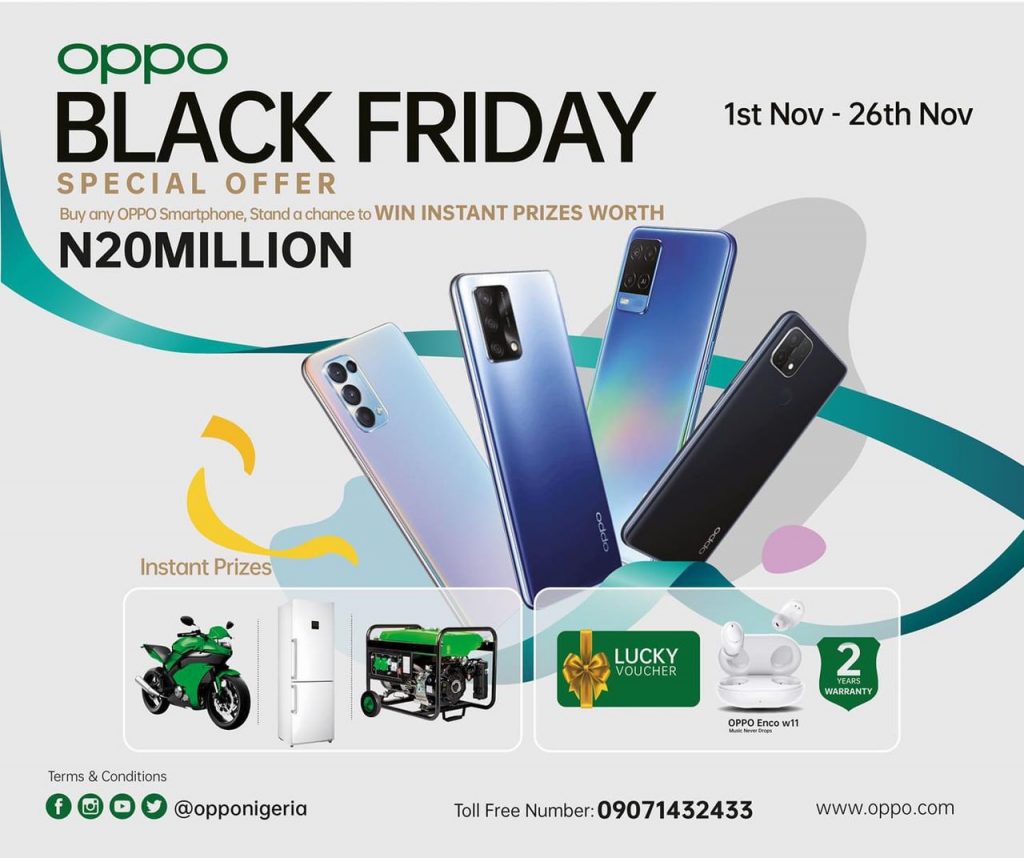 Smartphone brand, OPPO has launched its Black Friday special offer for Nigerians from 1st to 26th November. Phone lovers now have the perfect opportunity to change their phones at affordable prices.
OPPO Mobile Nigeria would be offering a special offer on select OPPO smartphones with instant prizes worth 20 million naira to be won.
Other stores such as Spar Nigeria are also set to participate in the Black Friday trend. It is a good time to purchase quality products at much cheaper rates than usual.
Get the best of Africa's daily tech to your inbox – first thing every morning.
Join the community now!