The African tech startup space has continued to be dominated by financial technology companies. These fintech companies have gained more traction, attracted more funding and generally have positioned themselves as the beacons of the African tech space.
All the top 6 funding raised on the continent so far in 2021 have been raised by fintech companies. And all 5 tech unicorns in Africa today are fintech companies. This just shows how dominant financial services tech companies are on the continent.
However, only one of them was dominant enough to make CB Insight's ranking of the Top 250 fintechs in the world.
Nigerian payments company, Opay, is the only fintech from Africa to make that hallowed Top 250 list. The fintech made the list for the second consecutive year.
The SoftBank-backed fintech company which only recently confirmed its unicorn status following a $400m raise was listed in the Payments Processing and Network subsector.
Last year, Africa had three startups in the list; Nigeria's Opay and Palmpay, and South Africa's Yoco.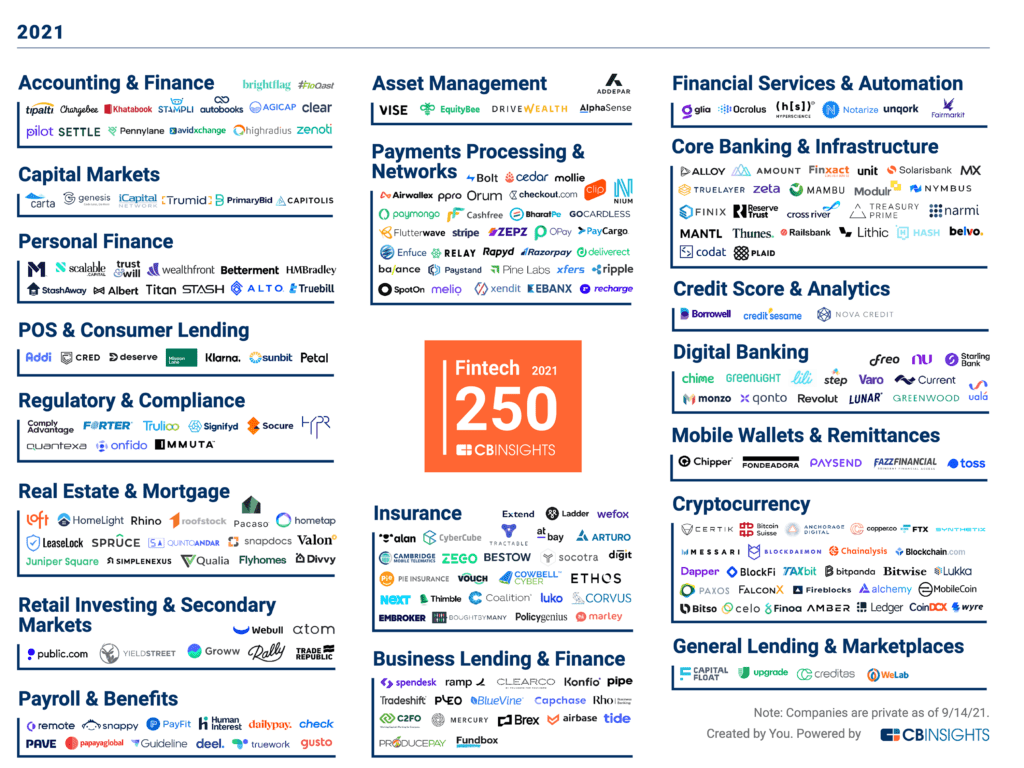 According to CB Insights, the 250 companies were selected from a pool of over 17,000 companies around the globe. While some of these companies applied for themselves, others were nominated.
The 2021 Fintech 250 cohort has raised approximately $73.8 billion in aggregate funding across nearly 1,200 deals since 2016. This includes startups at different investment stages of development, from early-stage companies to well-funded unicorns.
118 of the 250 companies selected (47%) are unicorns, all valued at $1 billion or above as of their latest funding round.
The fintechs were chosen based on several factors like data submitted by the companies, company business models and momentum in the market, and Mosaic scores, a CB Insights proprietary algorithm that measures the overall health and growth potential of private companies.
Opay's long journey up
In 2019, Opay which has currently raised a total of $570 million in funding, launched its Nigerian operations in the country's commercial capital, Lagos. From there it quickly spread its services to other parts of the country with a determination to eventually become a SuperApp.
But competing in the Nigerian market hasn't been easy as the company which developed a strategy of playing in different markets to drive adoption of its fintech solution, suddenly found itself struggling to keep up.
After running on a heavily discounted fee of N10 per transaction for its services, the fintech drew the ire of its users in November 2019 when it suddenly hiked its charges to 2% of every transaction executed. Following a series of backlash, Opay was forced to apologise and announce a new price regime.
"We have now reviewed our bank transfer fees and from 6 AM tomorrow, the fee for our bank transfers will be N45 for the first transaction of the day and 1% for subsequent ones," a statement by the payment's company read at the time.
Nonetheless, this didn't stop users who have grown accustomed to the startup's cheap charges to seek for more favourable options elsewhere. The heavily reduced charges was a major component of its model at the time.
Opay parent company, Opera also found itself under regulatory scrutiny when several of its fintech apps including CashBean (India), OKash (OPay, Nigeria), and OPesa (Kenya) came under threat of being kicked out of the playstore.
An investigation by Hidenburg Research, suggested that the apps offer predatory loans that come with deceptive descriptions.
The research report indicates that while the apps claim to offer maximum annual percentage rate (APR) of about 33% or less, the actual rates were much higher, as much as 438% in the case of OPesa.
And although they claim to offer a repayment period of 60 to 90 days, in compliance with Google's new policy for lending apps, the real length was no more than 29 days (for OKash) and sometimes 15 days.
These go against Google's regulations for loan apps which recommend a 60-day minimum repayment period and Annual Percentage Rate (APR) of 36% or lower.
But the fintech has since risen above these challenges to position itself as one of the leading fintech solutions in Africa and indeed, the world. In December 2019, it launched a USSD service for mobile transactions to allow users bank without data, thus becoming a frontrunner in the race to bank the unbanked.
The company said its monthly transaction volume now exceeds $3 billion. It also boasts over 300,000 agents and more than 5 million users across Nigeria. Opay is also eyeing expansion into other African markets as well as the Middle East.
Get the best of Africa's daily tech to your inbox – first thing every morning.
Join the community now!