Cryptocurrency has witnessed a diversification in use cases this year, bringing about widespread adoption of the digital assets class as well as a surge in transaction volumes processed globally.
Notably, the buying frenzy has led to a jump in the prices of cryptocurrencies in 2020. For context, the price of the world's flagship crypto, Bitcoin rose by 189% from $6,884 in early January to trade at a record-high $19,897 in December, surpassing the $19,783 peak price reached in 2017.
The world's second most popular crypto, Ethereum which traded at $126 in January posted a 404% increase to sell at $635 in December.
One of the biggest players in the African crypto space is Yellow Card, a Nigeria-focused crypto exchange with operations in South Africa and Botswana. The startup raised $1.5 million seed funding in September this year to expand to Kenya and Cameroon.
In a chat with Technext, Yellow Card Chief Business Officer (CBO) Munachi Ogueke talks about lessons learnt from crypto operations in 2020 and what to expect in 2021.
On Crypto Adoption in Africa
Asked about the adoption rate of crypto solutions among Nigerians through the year, Ogueke says there was a greater leaning among individuals and businesses towards the use of crypto exchanges for remittances.
There has been a gradual shift towards the acceptance of cryptos because there is increasing utility for them. One of the most popular uses was for remittances. There are a lot of businesses using cryptos and digital assets to provide much needed remittances and liquidity to reach more people.

Munachi Ogueke
"Bitcoin has proved itself to be a very viable tool and many people now understand that this piece of technology actually works. There are a lot of new users coming on board," he said.
More people are switching to cryptos for remittances due to shorter completion times, lower charges and higher transaction limits compared to conventional payment methods.
It is evident that this has been the case, as Yellow Card recently announced that it processed over $165 million (N62.8 billion) worth of remittances during the first eleven months of 2020. According to the company, this figure represents a 1,840% growth compared to the value of remittances processed in the last six months of 2019.
After raising $1.5million seed capital, the startup disclosed in September that its platform saw over 20,000 new sign-ups in August alone, with the majority of them coming from Nigeria.
With individual users and over 35,000 merchants in Nigeria accounting for 50% of the company's current volume, the country remains Yellow Card's biggest and most active market.
Pricing
In terms of pricing, Ogueke explained that significantly higher remittance volumes have contributed to the sustained upward trajectory in prices of cryptos this year.
The increased usage in the aspect of remittances has driven the price surge. Another factor pushing the prices up is the growing value brought about by an increase in utility cases.
Also, the Yellow Card CBO attributed the rally in Bitcoin price to greater investments into crypto hedge funds and huge crypto buys by big corporations such as Square and Microstrategy.
"Crypto went mainstream in 2020 and this spurred the surge in prices," he said.
COVID-19 Impact
2020 will go down as a year to quickly forget for many businesses which were adversely affected by the implementation of strict COVID-19 prevention measures. These measures which include widely enforced lockdowns led to a halt in economic activities.
For Yellow Card, however, 2020 has been a year to remember as Ogueke says the COVID-19 pandemic did not negatively impact the company's operations and financials.
Even though we have retail points where people can cash in cryptos, we have seen a surge in the number of users on our online platform over the past couple of months.
"If anything, it impacted us positively because people were locked at home and were looking for an alternative means to earn through cryptos. This drove in more users," he added.
What to Expect in 2021
In light of the boom in crypto operations, Ogueke says we could see the Nigeria government implement a clear regulatory policy on crypto dealings next year.
Suggested read: Here is How Nigeria's SEC Plans to Regulate Cryptocurrencies, BlockChain Companies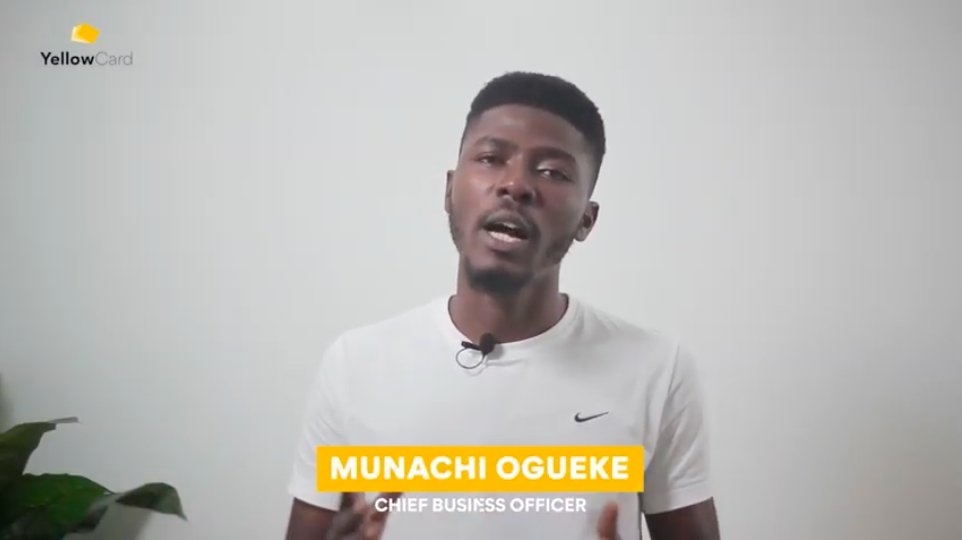 In 2021, I think there will be more clarity on the regulatory side. The government is still trying to really understand the space and bring out regulation that does not stifle the technology because there is value earned for the economy and cryptos could be leveraged to boost Nigeria's foreign reserves.
Ogueke explained that the rapid adoption of cryptos in Nigeria could push the government to take a clear stand on regulations that will define the crypto space going forward.
On whether prominent e-retailers and fintechs such as Jumia and Paystack could start accepting crypto payments, the Yellow Card CBO expects this to happen soon.
"It is inevitable that businesses like Jumia or Paystack would start playing in the crypto space. Crypto solutions are exploding in Nigeria right now and I do not think they want to be left out. I think it is just a matter of time."
Get the best of Africa's daily tech to your inbox – first thing every morning.
Join the community now!