Physical events across the continent are still on hold due to the COVID-19 pandemic. A number of events, meetups and hackathons have been shifted to virtual-only medium. We have compiled a number of these events for you.
These events come up between May 11 – 16, 2020.
The Opportunity Hackathon
Tagged Afrikathon, the event wants to bring together world-class talents across Africa to proffer lasting solutions to some of the continent's challenges like unemployment, thereby impacting lives and improving economies.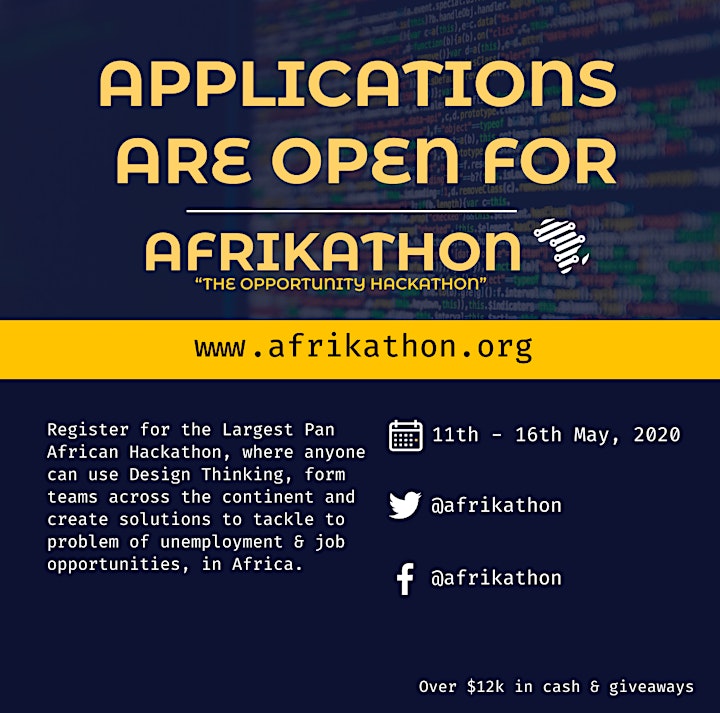 This becomes necessary in the wake of COVID-19, and design thinkers from across the continent are required to form teams to tackle the situation.
Date: Monday, May 11 – Saturday, May 16, 2020.
You can register here.
The Future of the Modern Coworking Model
MEST Incubator Nairobi, Nairobi Garage and Metta will be hosting a webinar on "Future of the Modern Coworking Models". The aim is to delve deeper into understanding the millennial's perspective on coworking spaces across the continent and globally. It will also help them consider their future after the pandemic.
The event will look at what value a coworking space brings to businesses, entrepreneurs and millennial professionals, revenue models and what will be the future as well as advice for owners of such ventures.
Date: Thursday, 14 May 2020
Time: 4 PM.
You can join the discussion here.
Healthcare and Science – Innovative Solutions to COVID-19
From generating low-cost COVID-19 testing kits and 3D-printed ventilators, young Africans have used their expertise in healthcare and sciences to solve global problems around a complex crisis such as COVID-19. This event wants to highlight these innovations as well as think deeply about their applicability in the fight against COVID-19.
Date: Thursday, May 14, 2020.
Time: 2 PM.
You can be a part here.
COVID-19 Pandemic: The Public Sector Outlook
The Africa Tech Leaders' Webinar series will be having its 3rd edition this week with a theme: COVID-19 Pandemic: The African Tech Leaders' Outlook: How will the Payments landscape evolve?
This week the focus will be on The Public Sector Outlook and will feature panellists like Kashifu Inuwa Abdullahi, The Director-General of NITDA Nigeria, Paula Ingabire, Hon. Minister of ICT & Innovation, Rwanda and Kwaku Ofori, Ag.Deputy DG, NITA Ghana.
Date: Tuesday, May 11, 2020.
Time: 11 AM.
African Innovation Ecosystems Facing the Global Crisis
Economic activities are slowly resuming after the shock of the COVID19 outbreak. Innovation ecosystems have become aware of the role they can play in organizing the response through science and technology.
But to what extent has Africa been able to respond with an entrepreneurial capacity based on innovation? Will African startups know how to take advantage of the opportunity to draw up strategies to gain momentum and access the funding necessary for this?
This webinar wants to bring together actors of the innovation ecosystem who operate in Africa, to answer these thoughts and questions.
Date: Thursday, May 14, 2020.
Time: 2 PM.
If you would like to have your virtual event featured on Technext, kindly reach out to us with details via our email: [email protected] You can also chat us up via our social media handle: @technextdotng on Twitter and Instagram; Technext.ng on Facebook and LinkedIn.
Get the best of Africa's daily tech to your inbox – first thing every morning.
Join the community now!