Hi guys, welcome to the new month. Although, lockdown procedures are being eased in some parts of the continent, there are still restrictions on events and large gatherings. This leaves virtual events as the best options to network with people.
We have compiled a list of them for you. These events come up between May 4 – 9, 2020.
Virtualization in the Era of COVID-19 and Beyond
The COVID-19 pandemic is forcing businesses to try out digital and virtual solutions. But many businesses have still not gotten the full hang of things, which is why this webinar wants to discuss virtualization as an important tool to enable and facilitate businesses during this period and beyond.
Conversations will be focused around ICT, Cloud, Networks, DevSecOps and Virtualization.
Date: Tuesday, May 5, 2020
Time: 9 AM.
You can be a part here.
App Annie: Combining Product & Monetization for Success
Mobile data and analytics platform, App Annie will be holding its webinar on the theme: Combining Product & Monetization for Success. The webinar is targeted at businesses and would show them what to focus on when building products; monetization options and KPIs to track.
The webinar will also have a track for gamers where there will be discussions about how the COVID-19 is affecting the mobile gaming industry.
Date: Tuesday, May 5, 2020
Time: 2 PM.
African Startup Investment Summit
The African startup economy is affected by several challenges, compounded by the COVID-19 pandemic. But with the African Startup Investment Summit, Founders Factory Africa and AfricArena want to engage entrepreneurs, early-stage investors, ecosystem enablers, regulatory bodies, and corporate partners, to forge concrete and practical solutions to problems that are evolving in the market.
This session will introduce long-term, sustainable interventions to stimulate African early-stage investing. It will also see selected entrepreneurs pitch their solutions virtually.
Date: Thursday, May 7, 2020.
Time: 3 pm.
You can participate here.
COVID-19 Impact: African Economic Growth, Businesses, Trade and Investment
This webinar wants businesses to learn the latest update, perspectives, strategies and best practices to help them prepare and transform in response to current rapidly evolving and disruptive environment.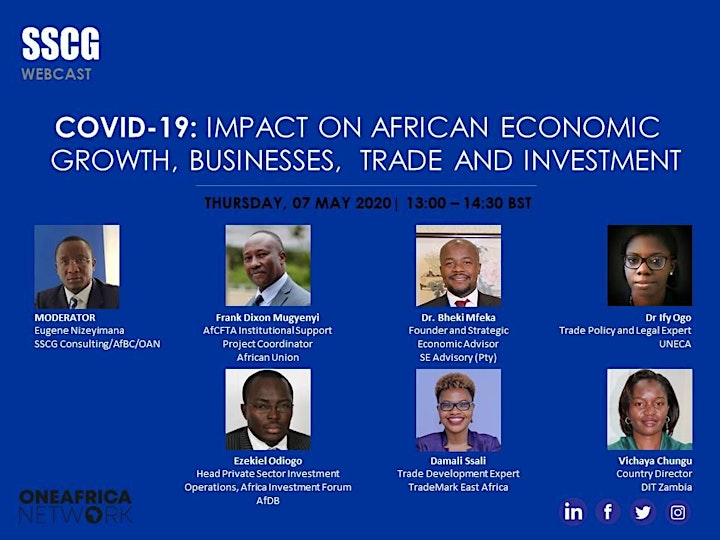 They will learn practical tips and guidance to help navigate uncertainty and mitigate risks for survival, capture prevailing opportunities and stay ahead for recovery in the African market.
Date: Thursday, May 7, 2020.
Time: 1 PM.
You can participate here.
AfDB COVID-19 Webinar Series
A great many people have lost their jobs and many more people will join them before this is all over. As such, it is important that there are innovative responses and mechanisms to the COVID-19 crisis on human capital development and employment in Africa.
The African Development Bank (AfDB) will bring together thought leaders, including Co-Creation Hub (CcHub) boss, Bosun Tijani, to hold discussions around this.
Date: Friday, May 8, 2020.
Time: 2 pm.
You can join in here.
If you would like to have your virtual event featured on Technext, kindly reach out to us with details via our email: [email protected]. You can also chat us up via our social media handle: @technextdotng on Twitter and Instagram; Technext.ng on Facebook and LinkedIn.
Get the best of Africa's daily tech to your inbox – first thing every morning.
Join the community now!