Bitcoin price is witnessing an upsurge as the crypto saw its price surge to $9,300, its highest since late February. This sees the digital asset return to its pre-coronavirus bullish run.
Within a few hours on Wednesday, the cryptocurrency leapt by more than 20% to peak at $9,388. Its price has however relaxed and is currently trading at $8,963 (as at press time). Nevertheless, this rise comes as a good signal for Bitcoin traders and investors, as it indicates an incredible recovery for the otherwise volatile asset during this pandemic.
In March, the crypto plunged down to as low as $5,678, after being affected by the coronavirus like other assets. This is despite claims by many experts that the digital asset is a safe-haven asset.
Now, about a month after, the price is back to the $9,000s, where it was hovering before the pandemic. This rise also continues the trend of April rises for the crypto as Bitcoin has performed well in the month of April in six out of the last eight years.
According to industry experts, this recent rise can be associated with the various stimulus by central banks around the world to cushion the economic fallout from the coronavirus pandemic. This has seen stocks rise in the last few days as more money is being put into equities and it seems that bitcoin is also a beneficiary.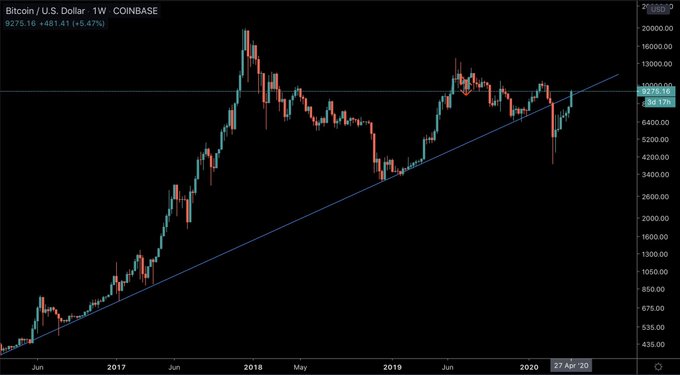 Others also feel the bitcoin halving is a major reason for the recent rise. Bitcoin halving sees the rewards of bitcoin miners cut in half – dropping from 12.5 bitcoin per block to 6.25. This stiffens the supply of the asset in the market forcing the prices upwards.
However, some other bitcoin and crypto investors have warned that the rise may not be a bullish run yet.
"We are seeing some enthusiasm around bitcoin as it breaks $8,000, but we are still watching closely and believe the sentiment is not yet bullish," says Meltem Demirors, chief strategy officer, CoinShares.
While a price drop in the next few days is not ruled out, a drop all the way back to levels under $6,000 is however unlikely. According to industry watchers, the buzz around the expected price rise following the halving will make people keep a hold on their assets and keep prices stable.
Get the best of Africa's daily tech to your inbox – first thing every morning.
Join the community now!