Following the COVID-19 outbreak, the world is slowly adapting to remote life. In turn, many organisations and governments are looking out for innovative solutions to make life easier and safer during this pandemic.
Across the globe, many challenges and hackathons have been organised by hubs and companies to check the best digital solutions aiding the fight against COVID-19.
Recently, the World Health Organisation (WHO) Regional Office for Africa held its own virtual hackathon bringing together 100 leading innovators from across sub-Saharan Africa. Tech hubs like Ventures Platform and CcHUB have also held challenges to support the best solutions for the COVID-19 pandemic.
However, if you missed out on those, here are other virtual challenges and hackathons you as an innovator/startup can apply for with your digital solutions.
Hack:Now
Organised by Cal Hacks and Postman, the 36-hour global online hackathon wants to foster innovative and technical solutions to challenges surrounding the COVID-19 pandemic.
Interested applicants will need to have solutions that tackle issues in a field of interest. Highlighted fields include:
Health – finding ways to empower health care workers on the front lines and bring support to individuals isolated at home. It also includes solutions to trace, contain and spread awareness about COVID-19.
Community – help with digital communication to help people stay in contact with each other and help businesses stay afloat.
Productivity – help people who are working/learning remotely keep up their productivity.
The hackathon will run from April 24-26th. Winning teams have a chance to win as $1000 in cash prize from the organisers as well as other prizes from partners like Y Combinator, Google Cloud, Microsoft and echoAR.
You can apply here.
Alibaba GET Global Challenge 2020
The Alibaba Business School has launched its E-Commerce Talent (GET) Global Challenge 2020. The theme of this year's event is Digital Solutions during COVID-19 and beyond. It is aimed squarely at helping businesses and organisations worldwide recover faster and rebound stronger in the wake of the COVID-19 pandemic.
Solutions for this challenge can come from any space but should promote inclusion and access to digital services during this period.
Winning innovations get to win $14,000 in funding as well as connection to Alibaba's connection of mentors and investors. Regional winners will also receive prizes. Applications end by May 4 and interested innovators can apply here.
MIT Africa Takes on COVID-19 Challenge
Massachusetts Institute of Technology (MIT) is also organising a COVID-19 challenge. The challenge is aimed at rallying the innovation community to rapidly develop and implement solutions towards the most pressing issues related to the COVID-19 crisis in Africa.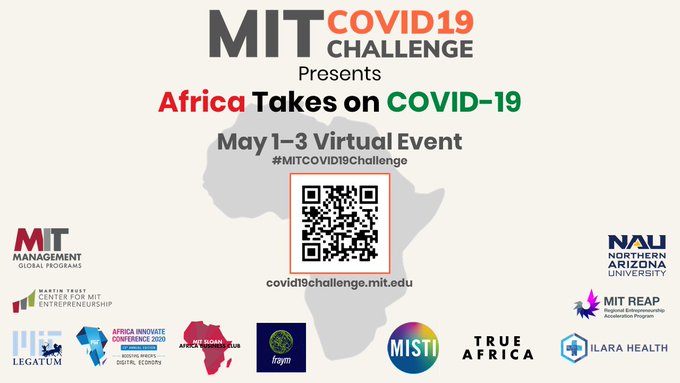 The challenge wants to answer two questions:
How to prevent disease transmission and protect vulnerable populations from the effects of COVID-19?
How to strengthen the health systems and health facilities that may face staff, supplies, and resource shortages?
The 48-hr virtual challenge will take place on Zoom between May 1-3, 2020. Teams of 5-7 persons are to register for the event after which the best solutions will be chosen. The winning team will get a chance to co-develop and implement their solutions with the support of MIT's partners. They will also get computing resources, organizational support and direct access to key partners.
You can be a part here.
2020 COVID-19 Call for Code Global Challenge
The IBM 2020 Call for Code Global Challenge wants to bring together developers and problem solvers to help build open-source solutions to make an immediate and lasting impact during this period.
The challenge is looking for solutions that address the issue(s) of – Immediate crisis communication; Enhanced remote education; or Stronger community cooperation.
These solutions are to include practical, effective, and high-quality applications based on one or more IBM Cloud™ services (for example, web, mobile, data, analytics, AI, IoT, or weather). The winning team could get up to $200,000 prize as well as other opportunities like mentorship and investment. First and second runner ups will get $25,000 prizes each, while the third and fourth runners up will get $10,000 and other perks.
You can check it out here.
Blockchain for Good
Organized by LongHash Ventures, Blockchain for Good is a virtual hackathon that wants to explore how the decentralized ledger technology can mitigate and address the challenges of the COVID-19 pandemic.
Blockchain geeks, professional developers, and industry professionals are invited to join the hackathon and create something that will have a social impact.
The winning team will receive $1,500 prize funding. Second will receive $1,000 and the third $500. Application will close on Sunday 26th April and interested participants can apply here 
Get the best of Africa's daily tech to your inbox – first thing every morning.
Join the community now!