Nigerian energy startup, Rensource, has closed a $20 million Series A investment from CRE Venture Capital and the Omidyar network.
The funding also had participation from Inspired Evolution, Proparco, EDPR, I&P, Sin Capital and Yuzura Honda.
The new funding round comes when the company is looking to scale its technology offerings and expand its reach across Nigeria and eventually Africa.
Founded in 2016, Rensource is a solar energy company bent on providing efficient renewable energy to enterprises with a focus on SMEs.
The company operates in 6 Nigerian states – Lagos, Kano, Ogun, Ondo, Oyo, and Edo. It builds and deploys micro-utilities – solar-panels, batteries, and a power management system – to the areas it serves.
The company also powers Sabon Gari market – one of the country's largest markets in Kaduna state.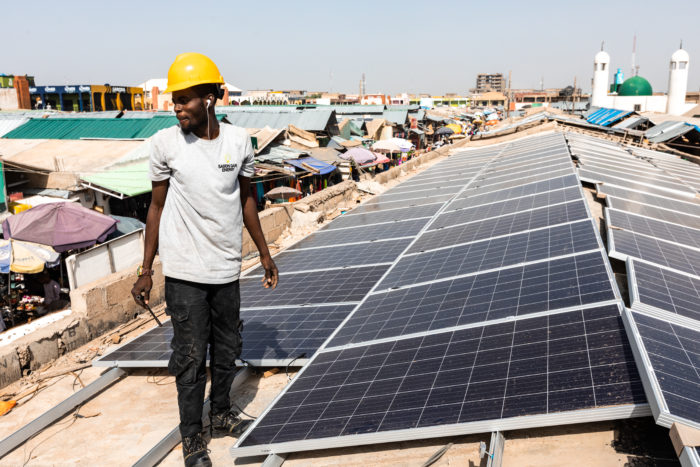 With a flexible payment scheme; daily, weekly, or monthly fees, Rensource saves merchants from the extra costs of fueling their generators – an act that is peculiar to most businesses in Nigeria.
On its part, Rensource sees green and decentralised energy as the solution to Nigeria and Africa's electricity problem. Ideally, 1000 megawatts of power is needed for 1 million people and in a country like Nigeria with 200 million, 200,000 Megawatts of power is required.
But that's not the case as the country's grid has 12,000 Megawatts of installed capacity, with only about 4,000 produced for its citizens.
Which is why the solution and model at Rensource is important to bridge this power deficit.
"We believe that simultaneously greening and decentralizing its power infrastructure is the only way to navigate Nigeria out of its current state of energy poverty. Pursuing this with a focus on the millions of small-businesses that drive our economy creates a massive multiplier effect whose benefit accrues to all."

Ademola Adesina, Founder and CEO, Rensource.
With the secured funds, Rensource wants to expand its offerings to businesses beyond energy and offer them B2B services.
The new service which is called "Spaces O2O" (Spaces Offline to Online), wants to provide SMEs with supply-chain services, business-analytics and working capital options, to accelerate their productivity.
"Our push into O2O is a natural step that leverages our existing infrastructure to further empower the merchants we serve. We aim to bring connect over one-million merchants in the next 5 years," Ademola said.
Beyond, the diversification of its offerings, the fund will also significantly impact Rensource's plan to expand. The company plans to expand to 100 markets within Nigeria, and to additional African countries within the next 3 years.
Get the best of Africa's daily tech to your inbox – first thing every morning.
Join the community now!