Happy new month everyone! The year is coming to an end, but its not too late to get that partnership sealed, that knowledge learnt or that investor onboard. And to help with that, we have compiled a list of key tech events coming up around you this week where you can get the connections you need.
These events come up between November 4 – November 9, 2019.
A&E TechLaw Forum 2019
Themed "The Intersection of Law and Technology", the event will bring together lawyers, tech entrepreneurs, investors and and other major players in the Nigerian Digital Economy.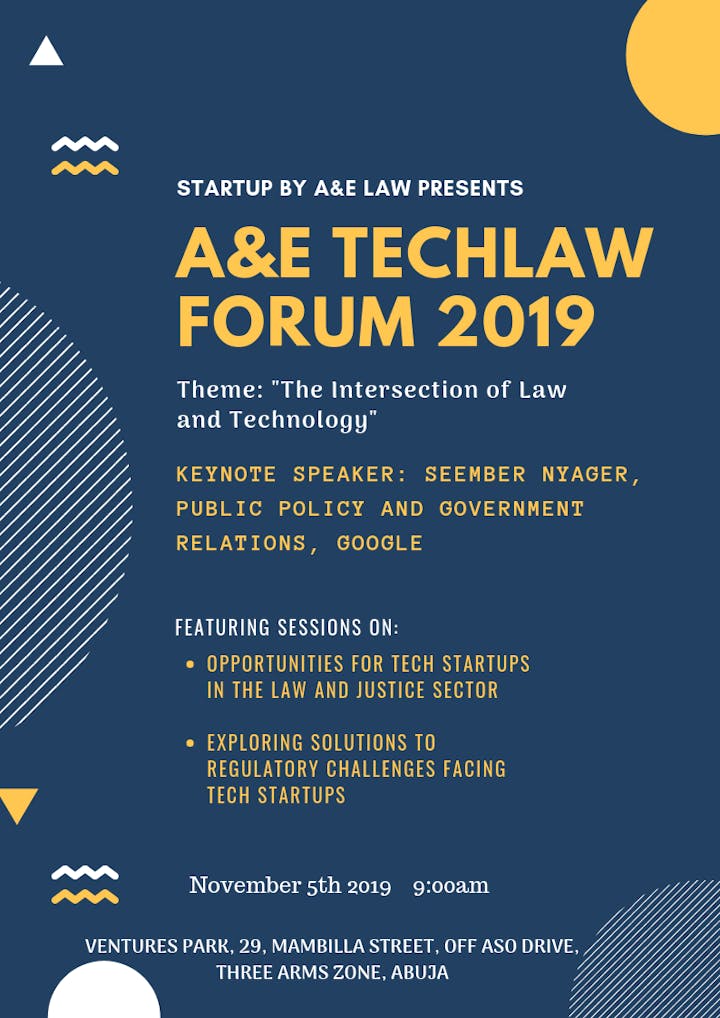 The discussions at the event will revolve around two sessions – Opportunities for Tech Startups in the Law and Justice Sector; and Exploring Solutions to Regulatory Challenges facing Startups.
Venue: Ventures Park, Abuja.
Date: Tuesday, November 5, 2019.
Time: 9 am.
Truecaller Nairobi Developer Meetup
The platform provides an opportunity for startups, entrepreneurs and developers to interact with the Truecaller team and get actionable insights on how one can leverage Truecaller's offering for developers and startups.
This is to help startups/developers deliver successful mobile experiences to the booming smartphone ecosystem in Africa. The event will also provide exclusive product demo from users of the platform.
Venue: Workstyle Serviced Offices, Nairobi, Lagos.
Date: Wednesday, November 6, 2019.
Time: 5 pm.
Startupbootcamp Afritech Bootcamp
The 3-month bootcamp culminates in a demo day this week. And this provides an opportunity for attendees to see the top innovators in Africa and network with some of the best African and international corporations, investors, mentors and thought leaders.
Venue: Old Mutual, Cape Town, South Africa.
Date: Thursday, November 7, 2019.
Time: 2 pm.
You can click here to attend.
DevFest Ibadan
An annual developer festival, DevFest is a community-led developer event hosted by Google Developer Groups around the globe. The event which features sessions, workshops, training, codelabs and much more will be held in Ibadan this week. The event hopes to bring together over 800 developers from all over the South-West region.
Venue: NuStreams Conference & Culture Centre, Ibadan, Oyo.
Date: Saturday, November 9, 2019.
Time: 9 am.
You can be a part of it here.
Edo Technovate '19
Technovate 19 provides a platform for tech enthusiasts and startup owners to network with top tech experts and dignitaries in Edo while learning about new technologies and connecting tech businesses to their customers.
Beyond that, the event will bring together industry stakeholders to hold discussions on how to reduce extreme poverty, boost shared prosperity and making life better by leveraging technologies like Artificial Intelligence, Blockchain, DataScience and Internet of things in the state.
Venue: Imaguero College Conference Hall, Benin City, Edo.
Date: Saturday, November 9, 2019.
Time: 10 am.
If you would like to have your event featured on Technext, kindly reach out to us with details via our email: [email protected]
Get the best of Africa's daily tech to your inbox – first thing every morning.
Join the community now!