A beautiful Monday morning ushering in an interesting week of events in the African tech space. And for you, our esteemed readers, we at Technext have compiled a list of the key events coming up between August 26 – 31, 2019. 
Let's check them out.
An event for accelerators, incubators and innovation hub owners, the Global Impact Summit Nairobi will feature panel discussions, workshops, networking and mentoring sessions.
The conference will also feature innovation workshops with global investors. There will be a pitch competition where startups will be rewarded for their innovations with mentor sessions, and exclusive opportunities with accelerators.
Venue: Mettā Nairobi, Kenya.
Date: Thursday, 29 – Friday, 30, 2019.
Time: 9 am.
Epic Hour: August Break
A meetup for the Lagos tech community to learn and network, Epic Hour brings individuals with vast knowledge of the industry to speak to participants.
However, for the August edition, Epic Hour will be taking a break from featuring prominent individuals to have fun with attendees. The event will feature discussions with attendees, games, music, drinks and pizza.
Venue: Hub One, Yaba, Lagos.

Date: Friday, August 30, 2019
Time: 5pm.
You can click here to be a part of it.
LeadPreneur Hangout
LeadPreneur is organising an evening of networking, sharing ideas and meet up for attendees. Most importantly, attendees will get to meet a special guest in the person of Japheth Omojuwa, the author of "Digital: The New Code of Wealth."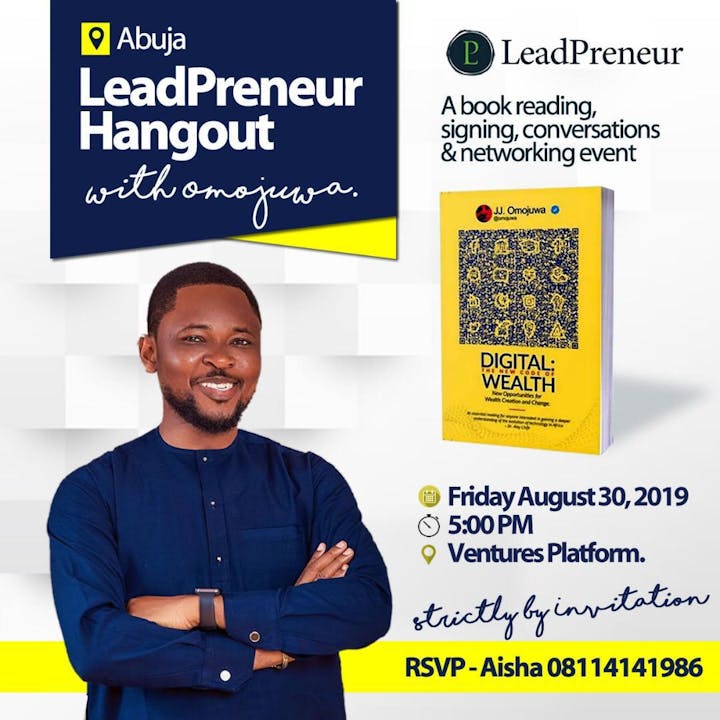 He will be available to read some chapters of his book, discuss and sign copies of his book.
Venue: Ventures Platform, Abuja.
Date: Friday, August 30, 2019.
Time: 5 pm.
You can register to attend here.
WennoChat August
A monthly ecosystem engagement platform, Wennochat brings together entrepreneurs, enthusiasts, developers and other ecosystem stakeholders to network and discuss key issues affecting the business and technology innovation industry in Nigeria.
This month, the meetup will feature Akinkuolie Damilare, Retail/School Business Manager of New Horizon, South-West Region Nigeria.
Venue: Wennovation Hub, Ibadan.
Date: Friday, August 30, 2019
Time: 3 pm.
CyberChain2019
This tech event is organised for stakeholders and tech enthusiasts from the world of CyberSecurity and Blockchain to come and watch industry partners showcase various projects, products and services.
Attendees will have firsthand access to various CyberSecurity concepts, applications and solutions as well as exposure to multiple blockchain developments.
Venue: The Red Carpet Hall, Lekki, Lagos.
Date: Saturday, August 31, 2019.
Time: 9 am.
If you would like to have your event featured on Technext, kindly reach out to us with details via our email: [email protected]
Get the best of Africa's daily tech to your inbox – first thing every morning.
Join the community now!