Hi there! Are you a startup, entrepreneur or tech enthusiast looking for a gathering where you can meet and interact with like minds? You are in luck as we at Technext have curated a list of events you may want to attend this week. These events will take place between 17th June and 22nd June, 2019.
African Edutech Conference
Organised by the Nigerian British Chamber of Commerce (NBCC) together with Edtech startup, EduFirst.ng, the event presents a platform for the government, regulatory agencies and educational professionals to interact on the revitalization of the Nigerian education system.
Themed: "Education, Technology and Jobs; a Synergy that Works", the event would aid discussions on how technology and innovation can serve as key ingredients for educational transformation.
Venue: Havilah Events Center, VI, Lagos.
Date: Thursday, June 20, 2019.
Time: 8 am.
You can click here to register.
Cyber Security Meetup
This is a quarterly discussion on many topics in cyber security aimed at helping attendees and enthusiasts increase their experience through knowledge sharing and networking.
Hot issues in cyber security will be discussed and contributions will be taken from anyone willing to participate – regardless of profession or qualification. The event is open to everyone who is involved or has an interest in cyber security.
Venue: IBM Innovation Client Center, VI, Lagos.
Date: Friday, 21 June, 2019.
Time: 10 am.
You can click here to attend.
WennoChat June Edition
A monthly ecosystem engagement platform, Wennochat brings together entrepreneurs, enthusiasts, developers, freelancers and other key ecosystem stakeholders to network and discuss key issues affecting the business and technology innovation industry in Nigeria.
This month, the meetup is themed "Handling Business Hurdles" and would be featuring Taofik Odukoya, CEO, Vanguard pharmacy.
Venue: Wennovation Hub, Ibadan.
Date: Friday, June 21, 2019.
Time: 3 pm.
You can click here to attend.
Blockchain Saturday
A periodic meet-up where renowned experts, industry leaders, and practitioners, as well as enthusiasts within the blockchain and cryptocurrency ecosystem, come together to synergize, share ideas, and network.
This edition of the event is themed – "The Future of Money".
Venue: Smart X Business Hub, Lagos.
Date: Saturday, June 22, 2019.
Time: 11 am.
You can register to attend here.
Civic Developers Circle: Artificial Intelligence and BlockChain
The Civic Developers Circle is the developer community of the Civic Innovation Lab. It consists of software and hardware developers who are solving social problems with technology.
And for this edition, attendees will be joined by experts of AI and Blockchain to learn and network.
Venue: 50 Ademola Adetokunbo Crescent, Abuja.
Date: Saturday, June 21, 2019.
Time: 4 pm.
You can click here to be a part of it.
Girls on Canvas Meetup 1.0
The Girls on Canvas event is designed to explore and have conversations about how women can thrive in design, creative arts, engineering, and technology roles.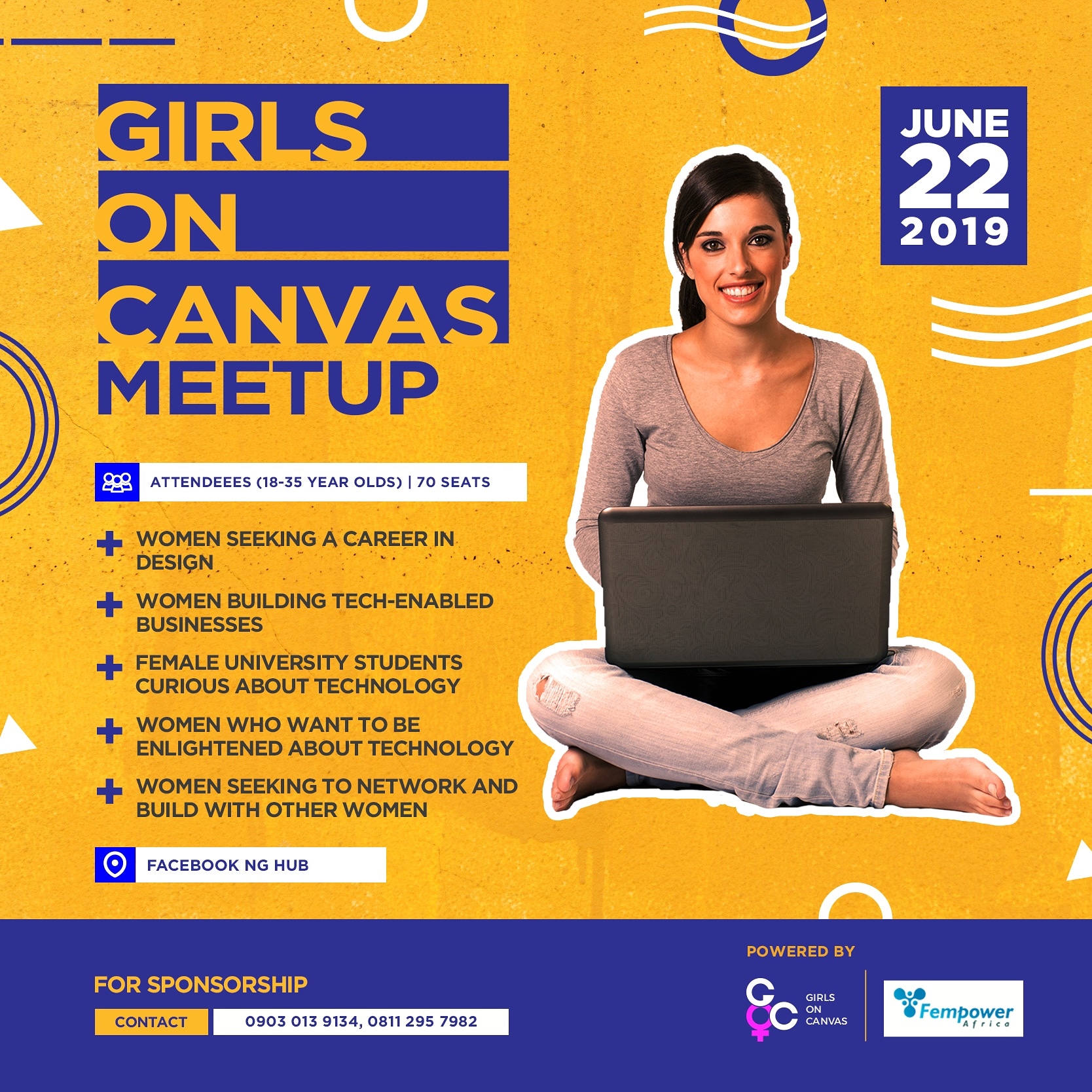 The event will feature – a Design Thinking Session, a Fireside chat with top designers, and a hands-on Design Session. It is open to women who are curious about tech and those who are players in the ecosystem.
Venue: NG Hub, Yaba, Lagos.
Date: Saturday, June 22, 2019.
Time: 9 am.
If you would like to have your event featured on Technext, kindly reach out to us with details via our email: [email protected]
Get the best of Africa's daily tech to your inbox – first thing every morning.
Join the community now!